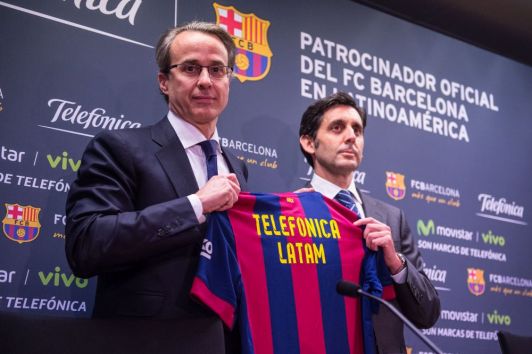 Spanish telecommunications company Telefonica is to end its partnerships with soccer giants FC Barcelona and Real Madrid, as well as severing sponsorship ties with Spain's national team.
The moves comes after a change in strategy from Telefonica, which recently secured the Spanish broadcast rights for the Uefa Champions League and Europa League, as well as Spanish soccer's top tier, La Liga.
The business now plans to stay connected to the commercial sector of the soccer industry through its television offering, but will continue with its partnerships in a variety of other sports.
Movistar, the major telecommunications brand owned by Telefonica, sponsors cycling's Movistar Team, while Movistar Estudiantes play in the top tier of Spanish basketball. The Rafa Nadal Academy by Movistar will also continue its partnership agreement with the Telefonica.
Telefonica had been linked to the Spanish national team since 2012, with the Movistar logo featuring prominently on the squad's training wear. Spanish financial services company Caixabank signed a six-year deal to become a major sponsor of the men's and women's national teams of Spain in June.
Real Madrid's relationship with the company began in 2017, with the pair signing a two-year deal in 2017 for the organisation to become the club's connecting partner.
The contract with Barcelona was signed in 2015, with the Catalan giants signing a deal for Telefonica to become a regional sponsor in Latin America in an agreement worth €13.3 million per year.
The new La Liga season kicked off on 17th August, with Barcelona currently top of the league, having beaten SD Huesca 8-2 on Sunday.