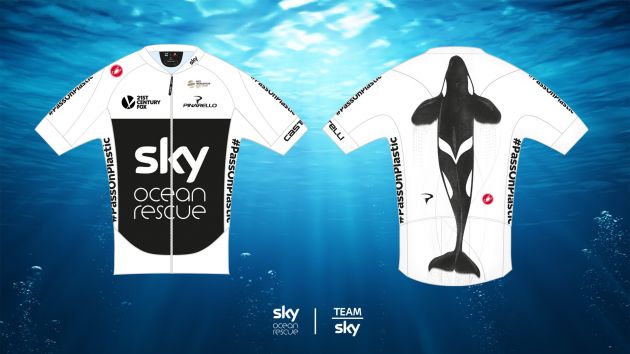 Top UCI World Tour cycling outfit Team Sky have linked up with GumGum Sports to track the value generated from principal sponsor Sky's Ocean Rescue campaign at the upcoming Tour de France.
Team Sky have committed to a Sky Ocean Rescue 'Race to 2020' pledge, to remove all single-use plastic packaging from its business operations by 2020, with a special #PassOnPlastic kit design to be worn at the cycling season's premier Grand Tour.
The partnership with artificial intelligence (AI) company GumGum Sports will allow Team Sky to understand the wider digital impact of the Sky Ocean Rescue campaign during the Tour.
GumGum Sports will track all impressions across Team Sky's social media platforms during the Tour and account for exposure generated by all content creators, not just those owned by the team, to measure the value generated from the campaign.
Searching social platforms such as Facebook, Instagram, Twitter and YouTube to identify traditional on-screen sponsorship assets, the technology will qualify those impressions against a proprietary Media Value Percentage (MVP) methodology; accounting for clarity, prominence and share of voice to determine a media value based on equivalent costs for advertising.
Dave Callan, head of partnerships, Team Sky, said: "As digital media consumption continues to rise, it's becoming more important for us to investigate the value and impact of our sponsorships across our various media platforms.
"GumGum Sports' computer vision and AI technology gives us a level of transparency that simply hasn't been available until now, providing us with a more holistic view of our exposure across our ever-growing social media platforms.
"These insights will be fascinating for us to see and will form another crucial part of measuring the success of our campaign at the Tour de France."
Sam Grimley, commercial director, GumGum Sports, added: "In today's omnichannel environment, sponsorships of this kind often generate more value on social media than they do on TV.
"This will be incredibly important insight for the Ocean Rescue campaign as they try to highlight the issue to a global audience of millions."