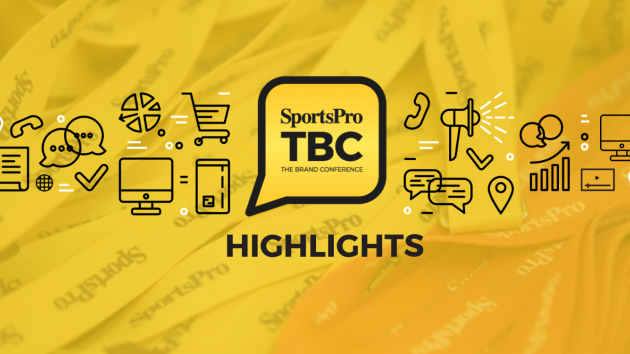 SportsPro TBC saw a variety of the industry's most influential minds together to lead a day of high-level discussion and interesting insights into the world of sponsorship and marketing.
With speakers from IBM, Roc Nation, Copa90 and more here are our favourite quotes from over TBC 2018 's two days at Lord's Cricket Ground.
We opened up with Jeremy Waite, IBM's chief strategy officer, telling delegates about the imminent artificial intelligence (AI) revolution coming in marketing.
JW on the concept of being innovative: "All innovation is, is doing what everyone else is doing faster - what we should be talking about is disruption, which means the complete opposite" #SPTBC18

— SportsPro (@SportsPro) September 26, 2018
After demonstrating the power of IBM's Watson platform, he described the benefits to early adopters: "Looking at how small teams can compete at a large scale, this technology levels the playing field for everyone, and trying to find a creative use of AI with whatever data set you've got helps teams to do that."
World Surf League (WSL) chief executive Sophie Goldschmidt, speaking on 'The shifting landscape of sponsorship: the age of engagement' panel offered some insight into how metrics is putting organisations under pressure from partners: "We're under a lot more pressure now because of measuring, so there's a demand for rights holders to demonstrate that they're providing their partners with value."
Scott Tilton, Hookit co-founder and president, was on the same panel and revealed how they work with partners to ensure they are getting a good deal.
ST on how @hookitcom helps its partners: "It's about understanding the data to uncover the true value of an asset before making a transaction. In a lot of cases we're in the same room as a rights holder and a brand to help make sure their KPIs are aligned" #SPTBC18

— SportsPro (@SportsPro) September 26, 2018
Roc Nation's enigmatic president Michael Yormark gave an entertaining presentation on how his agency is disrupting the landscape.
Nick Speakman, founder of social media success story Sporf, gave away some secrets of success on the 'Making the most of fan and influencer generated content' panel.
.@_Nick: "We have to be experimental on social - we have to try things out. We always look to develop and improve on our content strands. We love to fail, because it allows us to become perfectionists in what we do, and the social landscape is perfect for that" #SPTBC18

— SportsPro (@SportsPro) September 26, 2018
Georgina Lewis, head of marketing, the Football Association (FA), offered her thoughts on some of the off-field successes enjoyed the English soccer body during the World Cup:
GL: "Engagement is always the most important thing, and to create engagement you have to have an audience-first approach. You have to be agile and move with the audience" #SPTBC18

— SportsPro (@SportsPro) September 26, 2018
On day two, one of the early highlights came from Benjamin Stoll, head of digital strategy, platforms and innovation at Bayern Munich.
As the conference split into three streams there was a lot of interest in the session with Twitter's EMEA content and partnerships lead, Lee LeBorgne, who was impressing the platform's evolving profile on to delegates.
Three key takeaways from @LeeBo's session:

1. Twitter is what's happening
2. Twitter has the most valuable audience that is most receptive to brand messages
3. Twitter is all about premium sports content#SPTBC18

— SportsPro (@SportsPro) September 27, 2018
In the sponsorship stream, Joe Hills, strategic partnerships director at Triggerfish, on how best to capture the interest of esports fans.
It's said that 85% of #ESports fans are open to brand involvement, @BearlyKoalified states 'authenticity' is the buzzword...if a brand can crack an audience in an authentic way, they'll lap it up! #SPTBC18

— Synergy (@this_is_synergy) September 27, 2018
Post-lunch there was a definite star of the show as Copa90's David Vujanic took to the stage alongside chief executive James Kirkham.
His thoughts on time, definitely raised some eyebrows.
Some gems from Certified @COPA90 Influencer™ @DavidVujanic at #SPTBC18:

1. "Cricket sucks"
2. "They [Russians] can be a bit cold and Russian but you get through that after a few vodkas"
3. "I am the complete opposite of a plan"
4. "Time isn't real"

— Michael Long (@_MichaelLong) September 27, 2018
Later on, Zarah Al-Kudcy, who works in commercial partnerships at Formula One, revealed how even small tweaks in approach lead to increased exposure for brands:
.@zalkudcy explains that Heineken increased the impact of their logo's appearance around F1 tracks after realising that the colour of their branding appeared too dark on signage around the circuits #SPTBC18

— SportsPro (@SportsPro) September 27, 2018