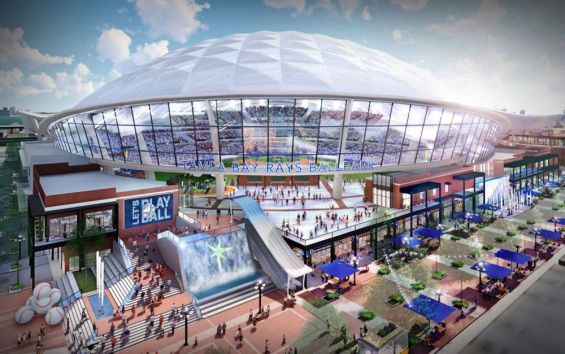 Major League Baseball's (MLB) Tampa Bay Rays have unveiled plans for their new ballpark but it is unclear how the venue will be paid for.
The eye-catching design by architects Populous features a translucent, climate managing, enclosed roof that accounts for 30 per cent of the estimated project cost of US$892 million
The new ballpark, situated in downtown Tampa, would be the MLB's smallest with 28,216 fixed seats and a total capacity of 30,842 spread across 17 seating areas and 21 viewing platforms. These areas are connected by a 360-degree concourse featuring complete views of the playing field.
The Rays hope to move out of the aging Tropicana Field and in to the new venue by 2023.
The team have announced they are willing to contribute between US$150 and US$400 million towards the build cost but it remains to be seen who will pick up the remainder of the bill.
The Rays hope to cover some of the costs by securing naming rights and sponsorship for the new arena. They've also revealed plans to secure funds from local businesses.
If the blueprint is followed, much of the funding for the project will fall on Tampa's taxpayers.
Florida's legislature has emphasised its opposition to spending public money on sporting venues. This is largely in part to the Miami Marlins stadium costing the city more than US$1 billion over the next 30 years.
Rays' senior vice president Melanie Lenz attempted to justify the team's reliance on the public to fund its new ballpark, saying: "It's not just a ballpark, it's a community asset. A new ballpark would bring a worldwide attraction to Tampa Bay, further enhancing our reputation as one of America's top places to live."
The team claims that their current Tropicana Field home hinders their ability to compete, stating that it exists in a less than ideal location with few redeeming qualities. This view has been endorsed by MLB commissioner Rob Manfred.