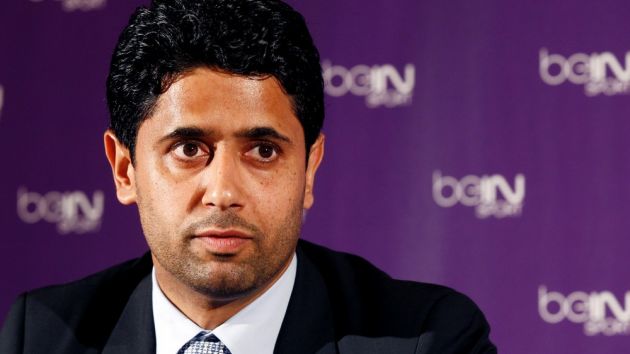 The office of the Swiss Attorney General (OAG) has announced that it has opened criminal proceedings against BeIN Media Group chief executive Nasser Al-Khelaifi and former Fifa secretary general Jérôme Valcke in relation to the award of media rights for the Fifa World Cup.
The investigation is linked to alleged bribes offered by Al-Khelaifi to Valcke to grant BeIN the rights for the 2026 and 2030 editions of the Fifa World Cup.
A statement released by the OAG on Thursday said that the probe into Valcke was launched on 20th March this year, and prosecutors interviewed the 57-year-old Frenchman as a suspect in Switzerland today.
The release added that the new proceedings involving Qatari businessman Al-Khelaifi – also chairman of French soccer powerhouse Paris Saint-Germain – had been 'opened primarily on the basis' of its findings.
The statement read: 'It is suspected that Jérôme Valcke accepted undue advantages from a businessman in the sports rights sector in connection with the award of media rights for certain countries at the Fifa World Cups in 2018, 2022, 2026 and 2030 and from Nasser Al-Khelaifi in connection with the award of media rights for certain countries at the Fifa World Cups in 2026 and 2030.
'As it announced in March 2016, the OAG is already conducting a proceeding against Jérôme Valcke, in particular on suspicion of various acts of criminal mismanagement. This proceeding is still ongoing. The new proceeding has been opened primarily on the basis of findings obtained by the OAG in this earlier proceeding.
'At the same time, in cooperation with the competent authorities in France, Greece, Italy and Spain, properties were searched in various locations. In terms of the request for mutual legal assistance the OAG was in attendance when these procedures took place.'
The OAG added that no one has been remanded at this stage, and that the presumption of innocence will apply throughout the investigation.
Al-Khelaifi, 43, has received plenty of attention in recent months after PSG sealed the world record transfer of Brazilian star Neymar from Barcelona for €222 million, before committing to a future €180 million transfer fee for French youngster Kylian Mbappe upon signing the 18-year-old from Ligue 1 rivals AS Monaco on an initial season-long loan. Both moves subsequently led to a Uefa investigation to determine whether the club's transfer activity complies with Financial Fair Play (FFP) regulations.
Valcke, who served as Fifa secretary general from 2007 until he was fired in January 2016, was at the Court of Arbitration for Sport in Switzerland on Wednesday to appeal against a ten-year Fifa ban for financial wrongdoing and abuse of expenses.