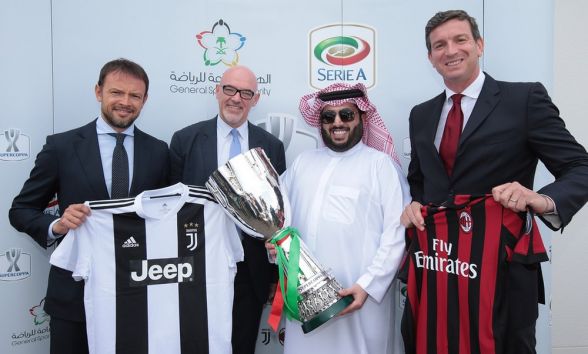 Lega Serie A, the governing body for the top flight of Italian club soccer, has finalised a deal for its Supercoppa Italiana fixture to be played in Saudi Arabia for three of the next five years.
The agreement, which was made with Saudi Arabia's General Sports Authority (GSA), will kick in with the 2018/19 edition between domestic double winners Juventus and Coppa Italia finalists AC Milan, which will take place sometime between 12th and 16th January next year.
The match traditionally features the Serie A champions against the Coppa Italia winners, but given that Juventus won both competitions last season, the vacant spot is being filled by the runner-up from Italian soccer's premier domestic knockout tournament.
According to the Football Italia website, the deal for the 2018/19 game is worth around €7 million (US$8.3 million), with 45 per cent each for Juventus and AC Milan, and the remaining ten per cent going to the league.
Next year's fixture will mark the tenth time that the Supercoppa has been played outside of Italy, and will see Saudi Arabia follow in the footsteps of the US, Libya, China and Qatar, with the latter the most recent foreign country to host the game in 2016.
Lega Serie A chief executive Marco Brunelli said: "The confirmation of an important market like Saudi Arabia to host this match testifies the appeal that Italian football exerts all over the world. The promotion of our brand goes through these agreements, necessary to favour the arrival of new investors in our championship."