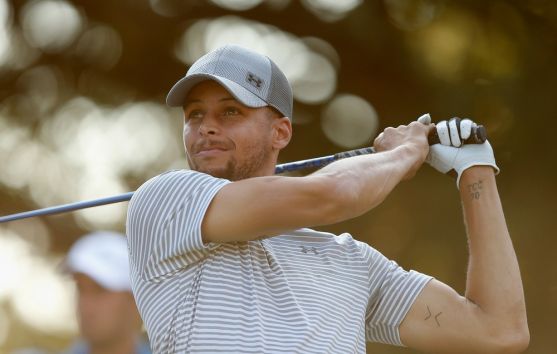 Three-time National Basketball Association (NBA) champion Steph Curry has agreed a partnership with technology company Full Swing Simulators.
The deal will see Full Swing's Pro 2 simulator and virtual green putting technology installed at Curry's home later this year.
As part of the agreement, the Golden State Warriors point guard, 30, will also star in various marketing initiatives for the brand, joining the likes of Jordan Spieth, Tiger Woods and Jason Day on Full Swing's star-studded roster of endorsers.
"Stephen is a once-in-a-generation talent who transcends the game of basketball, and having one of the world's best athletes opting to associate himself with our company and technology serves as a testament to the credibility, reliability and accuracy of our products," said Jason Fierro, senior vice president of sales and marketing at Full Swing.
Curry is an avid golfer and will be able to use Full Swing's simulators to practice putts with breaks on one surface through automated changing undulations, which are informed by thousands of data pinpoints.
"While I play professional basketball full-time, I have a true passion for golf and Full Swing's incredible technology will allow me to pursue my love for the game year-round," added Curry. "Full Swing's product accuracy and reliability provides an unparalleled golf and entertainment experience and will be a great addition to my house to enjoy during the off-season."