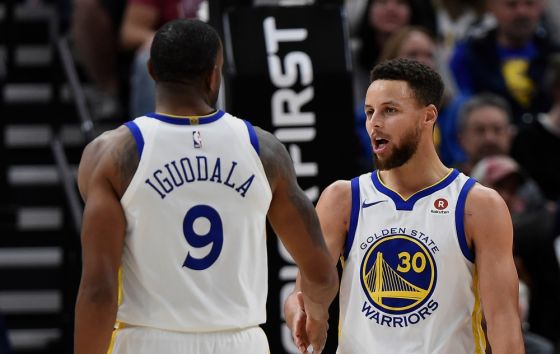 Basketball stars Stephen Curry and Andre Iguodala have joined a group of investors in putting up capital for esports organisation Swift and its League of Legends franchise Team SoloMid.
The Golden State Warriors teammates are part of a US$37 million Series A funding round led by US venture capital firm Bessemer Venture Partners, which itself stumped up US$25 million.
Other investors include Steve Simon, the son of Indiana Pacers owner Herb, and former National Football League (NFL) player Steve Young, as well as Twitch chief strategy officer Colin Carrier, Australian telco Telstra, Yahoo co-founder Jerry Yang's AME Cloud Ventures, Yifang Ventures and Walter Wang, the chief executive of JM Eagle.
The Swift investment is the first in esports for Curry and Iguodala, both of whom boast investment portfolios spanning tech startups and other ventures. They join fellow Warriors Kevin Durant and Jonas Jerebko in investing in the gaming space.
The National Basketball Association (NBA) and several of the league's team owners have also invested in esports. Earlier this year the NBA launched the NBA 2K League while Warriors majority owner Joe Jacob has, like Team SoloMid, acquired a franchise in the new North American League of Legends Championship Series.
Founded in 2009 by 26-year-old chief executive Andy Dinh, a former League of Legends player, Team SoloMid has enjoyed notable success and featured in every League of Legends World Championship to date. Its commercial partners include non-endemic brands such as Geico, Gillette, Dr. Pepper and Chipotle.
Following this week's round of investment, which includes Swift's content network and analytic web services, Dinh will remain the majority shareholder of the company. Forbes reports that his team plans to use a chunk of the fresh capital to build a player training complex in Los Angeles, with the remainder of the funds going towards further investments, acquisitions and franchising fees.
Commenting on his rationale for the investment, Ethan Kurzweil of Bessemer Venture Partners told Forbes: "It was just really clear Andy was operating at the highest level. What he had done without any capital at all was two or three times as much as people who had raised a lot of money."