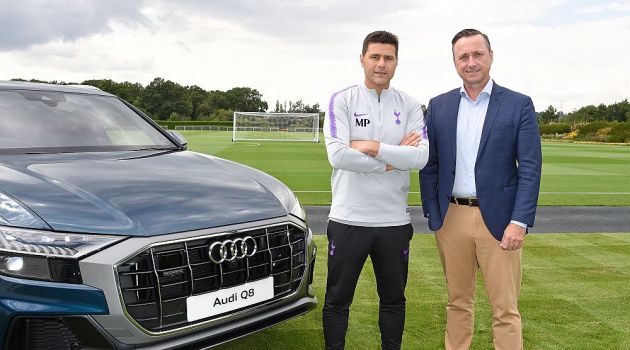 Top-flight English soccer club Tottenham Hotspur have named German automaker Audi as their official car partner.
As part of the four-year agreement, the car company will see its iconic four-ring logo feature on digital signage and perimeter LED boards at Spurs' new stadium. The company's branding will also feature on the club's social media platforms and in-stadium television network, as well as on the venue's big screens, which are the largest in any stadium in Western Europe.
The stadium, however, has experienced significant delays, with the arena's opening put back due to safety concerns.
The Premier League club's partnership with Audi marks the carmaker's latest move into the soccer industry, with Bayern Munich, Barcelona and Real Madrid all carrying links to the German brand. The company also presents the Audi Cup and the Audi Summer Tour – both lucrative preseason soccer tournaments.
Fran Jones, head of partnerships at Tottenham Hotspur, said: "Audi is a premium brand, so we are delighted to have it on board alongside a number of other leading club partners. We look forward to welcoming Audi and offering them the opportunity to showcase their products across the club."
Andrew Doyle, director of Audi UK, added: "The partnership brings two progressive brands together – Audi and Spurs. The club's legendary captain Danny Blanchflower famously spoke of 'doing things in style' – this, with our commitment to quality, guides everything we do. Our shared principles of beautiful design and the most advanced technologies further cements our belief that Audi and Spurs will be the perfect marriage."
This deal follows on the heels of another agreement involving Spurs, with the club partnering with American information technology company Hewlett Packard (HP) as their new official computer hardware supplier.