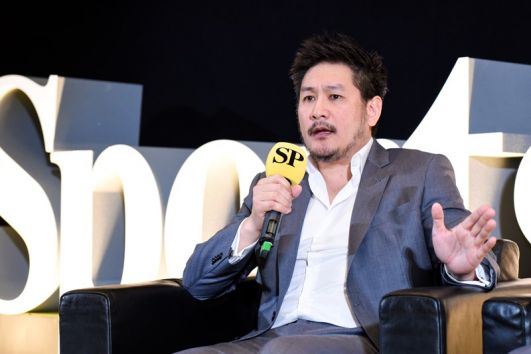 We were up and running in the early hours of yesterday morning for this year's edition of SportsPro Live at Wembley Stadium.
It was a full day of compelling conversation around the challenges and opportunities reshaping the business of sport - here are a few sound bites:
WADA president Sir Craig Reedie: How can the battle against doping be won?
"I don't think that doping was ever under control," - Reedie
The discussion moved swiftly, inevitably to Russian doping...
Reedie's "guess" is that there will be "extensive and authoritative" testing of Russian athletes ahead of PyeongChang 2018
Sir Craig Reedie says pre-Rio 2016 criticism of WADA was "not the IOC's finest moment"; "attacking the messenger" to deflect blame
"If you don't have WADA they will have to create an equivalent organisation," - Reedie
Chatri Sityodtong and the ONE Championship: What's the story of Asia's hottest sports media property?
Sityodtong, chairman of ONE Championship, believes that UFC is focused on "the sport and glorifying violence" which contradicts with their "humility, courage and discipline"
Sityodtong explained the difficulties of creating a pan-Asian organisation: " we want harmony whilst customising for each country"
90 per cent of ONE Championship fans are millennials. "Our content is ideal for OTT platforms," argued Sityodtong
Sityodtong believes that the key to success for any sport is "local relevance and global appeal"
ONE Championship is about "inspirational life stories" not "animosity or throwing water bottles in press conferences"
What is the power of the Paralympics?
(With Alexis Shaefer, commercial and marketing director, IPC, James Walker, head of marketing, Channel 4 and Duncan Blake, director of brand, BP)
"People don't feel cynical about the Paralympics and is, therefore, easy for them to embrace." - Shaefer
"It showcases fantastic sport, it also creates messages about what people are capable of," - Walker
"We decided very early on in our planning for 2012 that we would treat the Paralympics exactly the same as the Olympics." - Blake
"The next big for us is the world championships in London. This will be a springboard for us into Asia." - Shaefer
Follow updates of day two via @SportsPro and @SportsProLive, and use the hashtag #SPLive17 to get involved.
DAY TWO HIGHLIGHTS
10:00 - 10:30
OTT: The 'Netflix of sport', or something else?
Ralph Rivera, md, Eurosport Digital, Eurosport
Mark Parkman, general manager, Olympic Channel
Tom Middleditch, head of digital, Eleven Sports Network
Moderator: Carlo de Marchis, chief product & marketing officer, deltatre
12:00 - 12:30
The Baltimore Orioles and the Mid-Atlantic Sports Network: How can a sports team make the most of their content?
John Angelos, executive vp, coo and partner, Baltimore Orioles
15:15 - 15:45
Team GB and the National Lottery: Where next for British sport's biggest success story?
Bill Sweeney, ceo, BOA
Adam Chataway, National Lottery marketing & sports partnerships manager, National Lottery