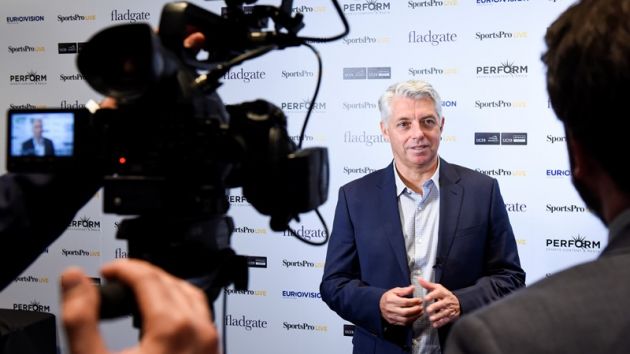 SportsPro Live was back for its second day at Wembley Stadium, where more of the industry's leading figures and thinkers shared their take on how sport is evolving.
Here are a few sound bites from today's sessions:
OTT: The 'Netflix of sport', or something else?
(with Ralph Rivera, MD, Eurosport Digital, Eurosport, Mark Parkman, General Manager, Olympic Channel and Tom Middleditch, Head of Digital, Eleven Sports Network; moderator Carlo de Marchis, Chief Product & Marketing Officer, deltatre)
Don't think of OTT as just mobile; people want to watch sport on the "best screen available" - Rivera
Broadcasters aren't thinking enough about reinventing the format, says Rivera. "Digital first" not just a philosophical statement
Parkman: "Our current thinking is let's get hyper local, so we take that Chinese Olympics fan and give them a Chinese experience"
Rivera: "Eurosport used to be that one feed that went across Europe but we're on a path where we're going to be more local and more premium"
How do you create value in your sporting competition?
(with Mark Browning, Group MD, ITN Productions, ITN, Jordi Bertomeu, CEO and President, Euroleague, Matt Drew, EVP Business Development, Perform Group; moderator: Chris Lencheski, CEO, IRG Sports + Entertainment)
"We are company that has the fans at the centre of every decision," says Bertomeu
"For the EFL we are using the web, which makes the content available for all stakeholders in real time." - Browning
"We are another way of delivering content to fans in the manner they want it," says Drew. "We are moving away from traditional form"
"A year's time we will see the federations take control over social. We will trial this with IAAF next year," says Browning
How do you tell stories with data?
(with Mike Moffo, Digital/Creative Strategist, Moffo Co, James Heneghan, Head of Commercial Development and Strategic Partnerships, Sportradar, Jeffrey Haas, Chief International Officer, DraftKings)
Heneghan: "data needs to be fast and accurate. Reliable. Is it there when you need it?"
"The valuable data is the one that tells you what people do in their daily lives. What do they consume and watch?" - Moffo
"We deliver what the customer needs, removing all of the clutter. They can enjoy their sport more," says Heneghan
"I think that the clubs are only scratching the surface with what they can use," says Haas
What makes a marketable athlete?
(with Matt Gentry, Managing Director, 77 Group and Simon Bayliff, Founder and CEO, ARETE)
UK's most marketable? Bayliff: "Anthony Joshua". Gentry keeps cards closer to his chest but divulges his loyalty to "Spurs"
eSports is an "opportunity" according to Gentry but for a "bigger agency". It also goes against partner "Andy Murray's healthy ethos"
Bayliff: "I genially believe that now is the time of the power female. Blue chip brands are all looking for female athletes"
"We have planned for the next 25 years of Nathan Redmond's career. It's all about a long-term duty," says Bayliff