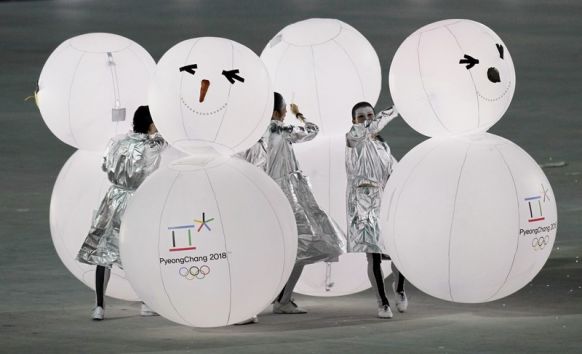 South Korea has proposed high-level talks with North Korea to discuss the nation's possible participation at the 2018 Winter Olympic Games in PyeongChang.
The possibility of a discussion between the two countries comes after North Korea's leader Kim Jong-un said in his New Year's Day speech that he was prepared to send a delegation of athletes to next month's Winter Olympics.
"North Korea's participation in the Winter Games will be a good opportunity to showcase the national pride and we wish the Games will be a success," Kim said on Monday. "Officials from the two Koreas may urgently meet to discuss the possibility,".
Cho Myoung-gyon, South Korea's unification minister, proposed that the two nations should meet on 9th January at the border village of Panmunjom, which is where the last high-level talks between the two Koreas were held in December 2015.
The news follows escalating tensions over North Korea's ballistic missile programme, which has advanced over the past two years despite increasing international sanctions.
The talks are widely viewed as a means to enhance diplomatic relations between both nations, and the North's nuclear programme is understood to form the backdrop of the sporting discussions.
Choi Moon-soon, governor of the Gangwon Province where the Pyeongchang Games are due to be held, has reportedly proposed that South Korea send cruise ships to transport North Korean athletes and officials to the event.
Whilst North Korea has missed the official deadline to confirm its participation for the Games, an invitation from the International Olympic Committee (IOC) would enable its athletes to take part.
However, the only two North Korean athletes who have qualified for the event are figure skaters Ryom Tae-Ok and Kim Ju-Sik.
"We look forward to candidly discussing interests from both sides face-to-face with North Korea along with the North's participation in the Pyeongchang winter Olympics," said Cho. "I repeat, the government is open to talking with North Korea, regardless of time, location and form."
'In this context, the IOC continues its discussions with the NOC (national Olympic committee) of DPRK [North Korea],' the IOC wrote in a statement. 'To allow for such a participation in respect of the Olympic Charter, the IOC is keeping its invitation for a delegation of the NOC of DPRK open and will take the final decision in due time.'
North Korea has participated in only ten Summer Olympic Games and eight Winter Games. The 2018 Winter Olympics are due to be staged from 9th to 25th February, with the Paralympic event set to take place between 8th and 18th March.