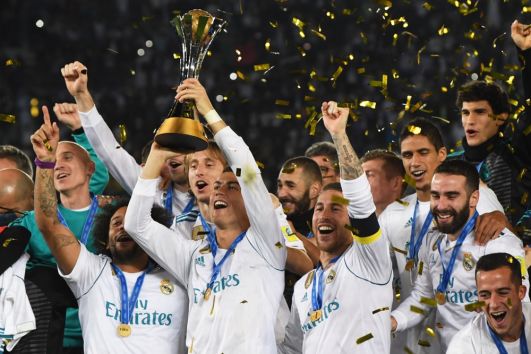 An international group of investors, including Japanese conglomerate SoftBank, is reportedly working on a multi-billion dollar plan to create new and expanded global soccer tournaments for Fifa.
According to a report by the Financial Times, the company is part of an international consortium comprising unidentified investors from China, Saudi Arabia, the United States and the United Arab Emirates, who together have made a offer in excess of US$25 billion to operate new and existing Fifa tournaments, including the Fifa Club World Cup.
The tabled proposal is said to envisage the expansion of that particular tournament, which currently features seven club sides from around the world, with the FT reporting that the new format would see 24 teams compete every four years starting in 2021.
The consortium is also reported to be plotting a new biennial competition for national teams. The FT reports that Fifa would have a 51 per cent stake in a newly created joint venture to oversee the tournament, with the investors having promised guaranteed revenues of at least US$25 billion.
Citing 'people with knowledge of the offer', the FT report adds that the consortium is being assembled by Centricus, a UK-based investment platform that has already worked to raise funds for Softbank's US$100 billion Vision Fund.
Fifa has declined to comment on the offer, although it has been widely reported that the body's president, Gianni Infantino, told his fellow council members about the consortium's proposal during a meeting in Bogotá, Colombia last month. Members of Fifa's ruling council are understood to have rejected moving forward with the proposal until more information is available.
In a statement to the FT, Uefa acknowledged what it called the 'alleged offer', however the European soccer governing body - which organises the hugely successful Champions League - added that it would have no comment at this stage since Infantino 'did not provide any concrete details on what such an offer would entail and which entity would have been behind it'.
If approved, expansion of the Club World Cup would align with Infantino's plan to overhaul Fifa's flagship competitions, with the Swiss having already instigated a plan to expand the World Cup from 32 teams to 48 for the 2026 edition.
Expanding the event under the auspices of a third-party would, however, be unprecedented for Fifa, which has until now operated its own tournaments and generated revenue through sales of tickets, sponsorships and media rights.
The New York Times reports the consortium would have the final say on where the new competitions are held and that further discussions are scheduled to take place at the next Fifa council meeting in Moscow in June.