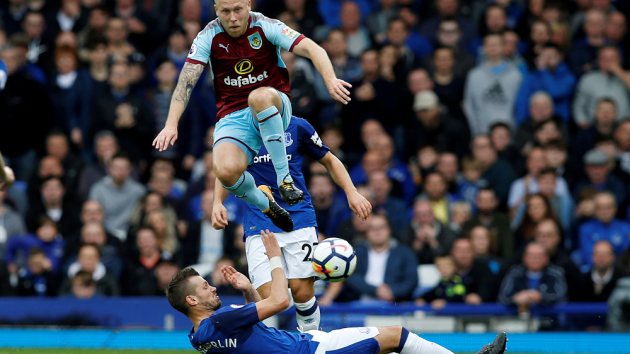 UK broadcasters Sky Sports and BT Sport will both continue to hold live domestic rights to the Premier League until 2022 - although English soccer's top flight has yet to conclude its latest round of sales.
The two rival networks will pay a combined UK£4.464 billion (US$6.194 billion) to acquire five of the seven live rights packages on offer for the three-season period starting from 2019.
Announcing the deals in a progress update on Tuesday, the Premier League said BT had been awarded rights package A, while Sky had taken packages B, C, D and E. The league added that its two remaining live packages are still to be sold amid interest from 'multiple bidders'.
BT's package - for which it is paying UK£295 million (US$409.3 million) per season - includes the rights to 32 matches played on Saturdays at 12.30pm GMT - 20 second-pick matches and 12 fifth-pick matches.
Sky's four packages - valued at UK£1.193 billion (US$1.655 billion) per season, or UK£3.579 billion (US$4.97 billion) overall - comprise a total of 128 matches per season, including all Saturday tea-time and evening fixtures (5.30pm GMT and 7.45pm GMT), every match played in Sunday afternoon slots (2pm GMT and 4.30pm GMT), and all Monday and Friday night matches.
"We are extremely pleased that BT and Sky continue to view the Premier League and our clubs as such an important part of their offering," said Premier League executive chairman Richard Scudamore.
"Both broadcasters are fantastic partners for the Premier League and have a track record of making our competition available to fans across the country through their high-quality and innovative programming.
"To have achieved this investment with two packages of live rights remaining to sell is an outcome that is testament to the excellent football competition delivered by the clubs. It provides them with certainty and will underpin their continued efforts to put on the most compelling football, invest sustainably in all areas, and use their popularity and reach to have a positive impact on the sport and beyond.
"We will now continue the sales process to deliver the best possible outcome for the remaining packages of rights in the UK and throughout the rest of the world."
The figure of UK£4.464 billion means that, as widely expected, the Premier League will not see a significant uplift in the value of its domestic rights this time round, with industry observers expecting the league to achieve notable increases from overseas broadcasters.
Sky and BT are both understood to be paying nearly UK£2 million less per match than they pay under their current deal worth UK£5.136 billion in total. While Sky has retained the lion's share of matches and the rights to most top-pick fixtures, it will pay UK£199 million (US$276.1 million) less per season over the course of the next cycle despite acquiring two more matches - 128 versus its current 126.
"We continue to invest in content that our customers value and which complements our strategy to broaden our offer," Stephen van Rooyen, Sky's UK chief executive, said in a statement. "Not only do we remain the home of Premier League football but also the home of top quality drama, entertainment, comedy and other sports. Our disciplined approach means we continue to have the flexibility to invest in each of these areas as we choose, underlining our position as Europe's largest investor in content."
BT stressed that it, too, had remained 'financially disciplined' during the latest sales process, adding that it 'remains in a strong position to make a return on this investment through subscription, wholesale, commercial and advertising revenues, especially following the acquisition of EE, which more than doubled BT's customer base.'
BT clarified that it will pay the Premier League a deposit of UK£26.5 million (US$36.78 million) this month, followed by six instalments of around UK£145 million (US$201.2 million) starting in July 2019, payable every six months until December 2021.
A record 200 of the Premier League's annual 380 matches are on offer in its current domestic rights auction. It is not year clear which entities are bidding for the remaining two live packages, F and G, which contain 20 matches each, including bank holiday and midweek fixtures. BT has, however, said it 'will continue to engage' with the Premier League regarding those packages.
The publicly funded, free-to-air BBC has already snapped up the Premier League's domestic highlights rights for the next cycle, paying UK£211.5 million to show coverage on its Match of the Day programme, as well as digitally and across a range of other magazine shows.