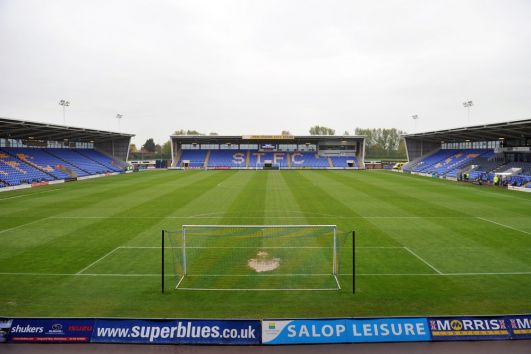 League One side Shrewsbury Town are set to become the first club in English soccer to introduce safe standing at their home ground after a crowdfunding campaign raised UK£65,000 to pay for alterations at their Montgomery Waters Meadow stadium.
More than 1,000 fans donated to the cause, after a campaign on the Tifosy platform co-founded by former Italy international Gianluca Vialli, while the third-tier outfit also benefitted from a sizeable contribution by online betting company FansBet.
The Shrews have applied to install railed seating for more than 500 fans in a new section at their 10,000-seater home, and hope to have the new facilities in place before the end of the current season, although the plans are subject to ground safety authority licensing.
Standing areas have been banned in the top two tiers of English soccer since the 1990 Taylor Report into the Hillsborough Disaster, when 96 supporters died as a result of overcrowding at the 1988/89 FA Cup semi-final between Liverpool and Nottingham Forest at Sheffield Wednesday's home ground.
Teams that have played for three seasons in the top two divisions in England are required by law to have all-seater stadiums but Shrewsbury, who have not played above the third tier since the law's introduction in 1994, do not meet these conditions and have received backing from the English Football League.
Fans across the UK have campaigned for the introduction of safe standing for a number of years, while Scottish champions Celtic installed nearly 3,000 rail seats at their stadium in 2016. Campaigners hope that the success of safe standing will encourage politicians to modify government policy and allow fans to stand under new regulations at all grounds across England and Wales.
Brian Caldwell, chief executive of Shrewsbury Town, said: "We are delighted that Shrewsbury Town will be the flagship club in addressing this issue, which is so important to so many fans.
"We will now continue to work closely with our local safety advisory group to gain the necessary certification for the safe standing area within the Salop Leisure Stand at the Montgomery Waters Meadow, and we hope to have supporters watching home games from the safe standing area before the end of the season."
Roger Groves of the Shrewsbury Town Supporters' Parliament added: "This is a remarkable achievement by the hundreds of fans and sponsors, especially FansBet, who have paved the way for the thousands more to bring standing back to matchdays at their clubs. I am very proud that Shrewsbury Town has been at the heart of this."