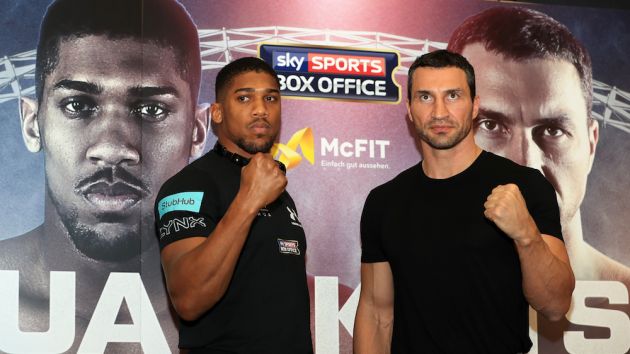 US broadcaster Showtime has won the rights to televise live the upcoming heavyweight world title fight between boxers Anthony Joshua and Wladimir Klitschko.
The CBS Sports-owned network beat out competition for the coveted live rights from HBO, which will instead show tape-delayed coverage of the much-anticipated fight set for Wembley Stadium on 29th April.
Showtime's coverage will air live at 4.15pm on the US east coast and 1.15pm in the west. HBO's re-run will broadcast at 10.45pm on the east coast and 7.45pm in the west.
The joint deal was negotiated because Briton Joshua, 27, and his promoter Eddie Hearn have an exclusive deal with Showtime, while Ukraine's Klitschko, 41, and his management have had ties with HBO for many years. A similar rights-sharing arrangement was agreed when Floyd Mayweather Jr fought Manny Pacquiao in 2015.
"It takes a special fight to break down barriers and boundaries but also networks and executives who believe in working with the best interest of fight fans in mind," said Hearn, per Sky Sports.
"With the obstacles in place it would have been any easy resolution to not air the fight in the States but I want to thank HBO and Showtime for their perseverance and allowing America to see one hell of a fight at our national stadium."
This month's fight, which is due to take place in front of a record 90,000 spectators at Wembley, will unify the International Boxing Federation (IBF) and World Boxing Association (WBA) heavyweight titles. Joshua currently holds the IBF belt, while the WBA belt, which Klitschko held until losing to England's Tyson Fury in late 2015, is vacant.
Showtime Sports general manager Stephen Espinoza has described the fight as "potentially the changing of the guard in the most influential division in boxing".