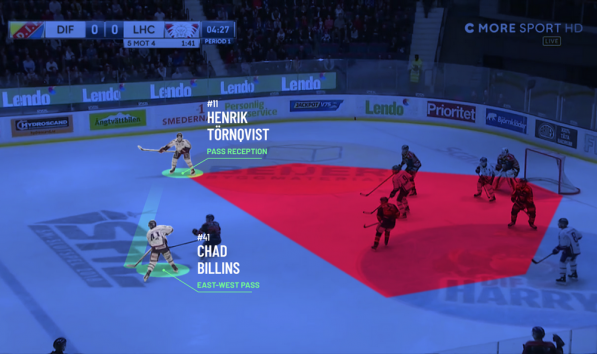 Sports analytics firm Sportlogiq has expanded its longstanding partnership with the Swedish Hockey League (SHL) to become the ice hockey competition's official data supplier.
The multi-year deal, which begins with the upcoming 2018/19 season, will see the artificial intelligence (AI) company provide the top-tier league, its teams, broadcast and sports betting partners with access to its real-time advanced analytics.
Sportlogiq says the SHL is the first league to infuse its advanced analytics system with AI.
"We're thrilled to partner with a league as progressive as the SHL," said Craig Buntin, co-founder and chief executive of Sportlogiq. "There has been a lot of hype about what AI will bring to sport, so to see the league bring together its teams, broadcast media, and betting partners into one discussion is really exciting.
"Our player tracking and advanced storytelling tools will bring an unprecedented level of game insight to fans in Sweden and throughout the world. We're entering a new era, and we couldn't be happier to be doing so directly with the SHL."
The collaboration will see Sportlogiq share its entire suite of AI-powered analytics products and services with the SHL. The company has rights to process and distribute real-time tracking and game data, allowing teams and fans to better understand the game.
Sportlogiq's system tracks and analyses in-game player movement, before its analytics engine transforms that data into actionable insights for teams, automated stories for broadcasters, and in-depth insights for sports betting companies.
"Our partnership with Sportlogiq presents a very exciting opportunity for us, our teams and SHL hockey fans. They are the disruptive force the industry has been waiting for," added Jörgen Lindgren, chief executive of the SHL.
"We have always been a forward-thinking organisation that prioritises investing in technology to remain ahead of the curve. We're thrilled to have Sportlogiq as our official data provider."
Sportlogiq's system will be integrated for the first time on 15th September, when the new SHL season is due to get underway.