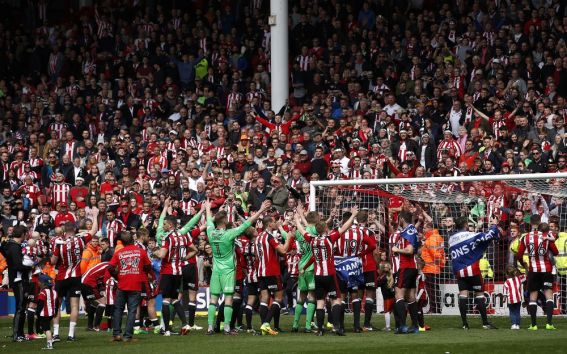 Recently promoted second-tier English soccer side Sheffield United have launched a new partnership with Heineken.
The Dutch brewer has secured the pouring rights at the Championship side's Bramall Lane home ground until 2020, in a deal which will see a number of the company's brands of beer sold on draught and in bottles throughout the stadium's concourses.
Additionally, Heineken will provide sponsorship to support the renovation of several bars around the venue, and will also introduce branded areas and adult fan activities to enhance the matchday experience.
Paul Reeves, Sheffield United's head of commercial, said: "Heineken has a long track record of supporting football on a global scale and is currently the official beer of the Uefa Champions League, alongside being the official partner of a number of Premier League teams and EFL Championship teams.
"At the club, we continue to look at ways in which we can improve the matchday experience for our fans before, during and after the game and this collaboration with a drinks brand who strive for the same levels of excellence allows us to ensure supporters in our concourse and hospitality areas are able to enjoy quality products. This announcement represents another high-profile partnership for Sheffield United with a truly global, best-in-class brand."
Duncan Barlow, regional sales director for Heineken, added: "We have been a supporter of professional football for many years. This, together with our shared commitment to provide excellent matchday experiences, means Heineken is a natural partner for Sheffield United."
Sheffield United were crowned champions of League One in 2016/17 to secure their return to the Championship after a six-year stint in England's third tier. The Blades kick off the new season at home to Brentford on 5th August.