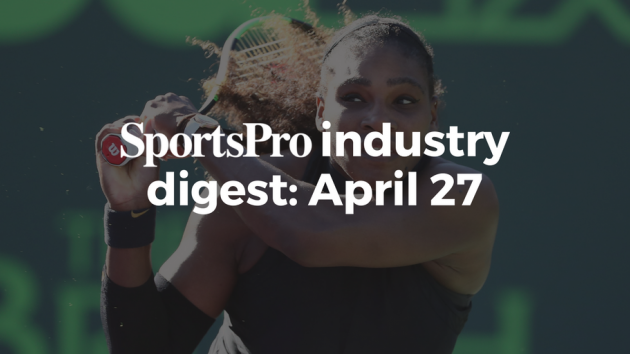 Tennis: Serena Williams has partnered with Neodyne Biosciences to promote its Embrace active scar defence product.
Williams, who had both an unplanned C-section and emergency surgery following the birth of her baby girl, Olympia, last year, will act as a spokesperson for Embrace after using it to treat her own scars.
Williams, 36, will appear in the brand's public relations, digital and social media campaigns, as well as retail and advertising.
"The pain from my C-section was pain I've never experienced before," said Williams. "Embrace immediately helped with the pain and discomfort, and helped it look a lot better, really fast. It worked wonders for me."
Kelley Lipman, president and chief commercial officer for Neodyne, added: "We are thrilled to be partnering with one of the greatest athletes and female role models of all time, Serena Williams. Knowing that Embrace helped someone as strong as Serena during her road to recovery and journey to motherhood is truly inspiring."
Soccer: England's top flight, the Premier League, and media company Sky have today announced a new partnership aims to raise awareness of the environmental issues caused by single-use plastic and inspire the league's clubs and fans to go single-use plastic free. The deal sees Premier League clubs gain support from Sky Ocean Rescue Ninjas, a team of consultants dedicated to helping businesses reduce their plastic output.
In Poland, the Polish Football Assocation (PZPN) has renewed its sponsorship deal with discount supermarket chain Biedronka for another four years. Meanwhile, Zbigniew Boniek, PZPN president has become the face of the new campaign for the Tyskie beer brand.
Scottish Premiership outfit Hamilton Academicals have secured a new £400,000, three-year sponsorship deal with Hyundai Material Handling that runs from 2018/19 through to 2021.
Rugby union: Cardiff Blues haved confirmed Italian brand Macron as their new technical sponsor ahead of the 2018/19 season. This new partnership will see all Blues age-grades, the Ladies set-up and the senior men all supplied with bespoke kits.
Drone racing: The Drone Racing League (DRL) has extended it title sponsorship with Allianz to take the total length of the deal to five years. The contract, believed to be worth eight-figures to the DRL, now expires in 2021.
Esports: North, the brainchild of FC Copenhagen and Nordisk Film, will see their players compete in Adidas merchandise for the remainder of 2018 with talks of a possible extension after signing a technical partnership.
Tweet of the day
United States president Donald Trump issued a veiled threat to nations considering opposing the United 2026 Fifa World Cup bid. Morocco is the only rival to a joint bid to stage the event from the United States, Canada and Mexico, with the Fifa Congress due to choose the hosts in Moscow on 13th June.
"The US has put together a STRONG bid w/ Canada & Mexico for the 2026 World Cup," Trump tweeted. "It would be a shame if countries that we always support were to lobby against the US bid. Why should we be supporting these countries when they don't support us (including at the United Nations)?"
The U.S. has put together a STRONG bid w/ Canada & Mexico for the 2026 World Cup. It would be a shame if countries that we always support were to lobby against the U.S. bid. Why should we be supporting these countries when they don't support us (including at the United Nations)?

— Donald J. Trump (@realDonaldTrump) April 26, 2018
Our industry digest will update throughout the day as deals break so check back to make sure you do not miss a story