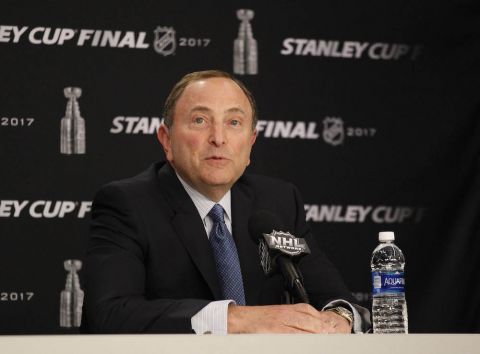 Seattle's hopes of landing a National Hockey League (NHL) expansion franchise were given a major boost this week after the league authorised an ownership group in the city to file an application.
Speaking following an NHL board of governors meeting on Thursday, commissioner Gary Bettman (pictured) said Seattle, in Washington state, will be the only city considered for the league's 32nd franchise.
The Seattle ownership group includes Hollywood producer Jerry Bruckheimer and private equity executive David Bonderman. Reports in the US say the group would be required to pay a US$650 million expansion fee, with the team beginning play in the 2020/21 season.
While Thursday's announcement does not guarantee Seattle an NHL franchise, the group can now begin a season ticket drive to gauge interest among local fans. A lengthy vetting process will also be conducted by the league office.
"From everything I know viscerally I think [Seattle] will be a good market," said Bettman. "I think the geographic rivalry with [the] Vancouver [Canucks] as potential will be nice.
"Building up a bigger presence in the Pacific Northwest for the NHL, a place that we know has great hockey interest at a variety of other levels, it's an intriguing possibility. But we've got homework to do."
Thursday's announcement comes after Seattle city authorities approved on Monday a proposed US$600 million renovation of KeyArena, a project that will be privately financed by Los Angeles-based Oak View Group (OVG).
Having previously hosted the Seattle SuperSonics basketball team before they relocated to Oklahoma City in 2008, KeyArena will be upgraded to meet current NHL and National Basketball Association (NBA) standards.
"We now have an interested ownership group, we have a commitment on an arena, and we have a market we now have to explore," said NHL deputy Commissioner Bill Daly, per NHL.com.
Seattle has never previously had an NHL franchise, although the Seattle Metropolitans ice hockey team played in the Pacific Coast Hockey Association from 1915 to 1924, and were the first US-based team to win the Stanley Cup in 1917.
If approved, the Seattle franchise would follow in the footsteps of the Vegas Golden Knights, who joined the NHL earlier this year for an expansion fee of US$500 million.
Another development to emerge from this week's NHL board of governors meetings was the news that Dallas-based billionaire Tom Dundon has signed an agreement to purchase a majority stake in the Carolina Hurricanes, who are currently owned by Peter Karmanos Jr.