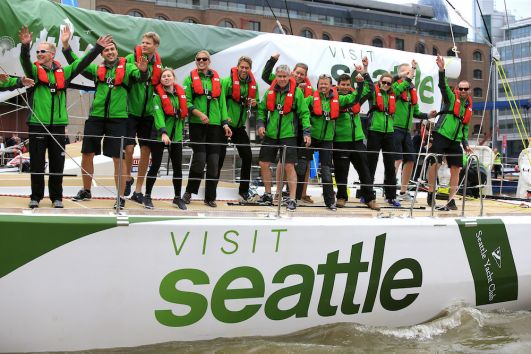 The US city of Seattle will return as a host port and team partner for the next edition of the Clipper Round the World Yacht Race.
Washington's largest city will serve as a stopover in April 2018, while its tourism board will enter a team for the second consecutive time.
The 12-strong fleet of Clipper 70 yachts will berth at Port of Seattle's Bell Harbor Marina, just as they did during the 2015/16 edition of the 11-month, 40,000-nautical mile race, which sees amateur sailors competing alongside professionals.
Teams will arrive after a gruelling monthlong sprint across the Pacific from Qingdao in China before setting off on the next stage to New York City via the Panama Canal.
Team Visit Seattle will feature 15 crew members, including six from the city itself.
"A branded, 70-foot racing yacht is a wonderful conversation-starter," said Tom Norwalk, the president and chief executive of Visit Seattle, the city's tourism arm.
"We're proud to be associated with the Clipper Round the World Yacht Race and regard the Visit Seattle yacht and its intrepid crew as global ambassadors of our city and region."
Beginning this August, the 2017/18 edition of the Clipper Race will visit six different continents, including stopovers in the UK, South America, Cape Town, Sydney, Sanya and Qingdao in China, Seattle and New York in the US, Derry-Londonderry, and another as-yet-unannounced destination in Europe.