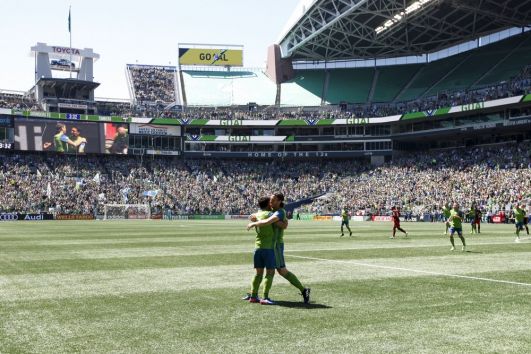 Major League Soccer (MLS) side the Seattle Sounders have entered a partnership with global sports and entertainment giant WME | IMG to assist in their search for a future naming rights partner.
The reigning MLS champions' deal with current main sponsor Xbox expires at the end of the 2018 season, which will vacate an assets package which includes the team's front-of-shirt, matchday pitch and training facility sponsorship.
The agreement makes the Sounders the first MLS franchise to work with WME | IMG. While most clubs generate between US$3 million and US$4 million each year on shirt sponsorship deals, Sports Business Daily's Ian Thomas has suggested that Seattle's package valuation could be in the eight figure range. The club's existing contract with Microsoft-owned Xbox is thought to be worth an annual US$5 million.
"We're excited to put the full force of an innovative company like WME | IMG behind us as we explore our future naming rights options," said Bart Wiley, chief operating officer of the Seattle Sounders. "Since joining the league in 2009, Sounders FC has forged its own path and become a leader within the North American soccer landscape. As we head into our tenth MLS season, we feel that taking a fresh look at the value of our top partnership assets allows our club to achieve further success on and off the field."
"We have been very pleased with our partnership with Xbox over the years and certainly plan to continue discussions with Microsoft as our current naming rights agreement comes to a close," added Michael Shockley, vice president of corporate partnerships for the Seattle Sounders. "However, with the continued growth and popularity of MLS and our club's sustained success on the field, we feel the time is right to explore all available partnership options to give our team every possible advantage going forward. We're proud to be the first MLS club to work with WME | IMG and look forward to their expertise and guidance."
"We're excited to bring the full resources of WME | IMG to bear on our first naming rights partnership with a Major League Soccer team," said Sean Barror, senior vice president of naming rights for IMG. "The Sounders are offering a unique package which adds additional layers to an already attractive rights package. We look forward to working with them to identify a strong partner that will help further accelerate the brand's growth."
The Sounders are fifth in the MLS Western Conference, and play their next fixture away to Minnesota United on 6th August.