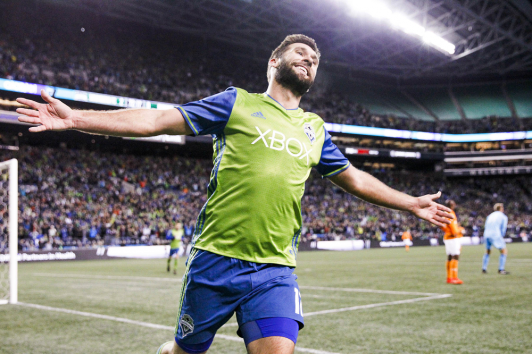 US soccer champions the Seattle Sounders have renewed their regional broadcast deals with Seattle Fox Network affiliate Q13 FOX (KCPQ-Channel 13) and JOEtv (KZJO-Channel 22).
The extended deals will see the Seattle television channels continue to show the Major League Soccer (MLS) outfit's games throughout the 2018 season.
JOEtv will continue to provide both a 30-minute pre-match show and a 30-minute post-match wrap-up following each Sounders match.
Meanwhile, Q13 FOX will show feature-length Sounders specials during the 2018 season, in addition to profiling the team during the weekly 'Q It Up' show each Friday throughout the year, shown on both Q13 FOX and JOEtv.
Of the club's 34 MLS regular-season matches, 20 will be broadcast by JOEtv throughout western Washington, with 13 of the games in Seattle to air on national television via Fox, Fox Sports 1 and ESPN.
"Since 2014, our relationship with Q13 FOX and JOEtv has been a rewarding one, providing exciting and creative programming for our fans, in addition to some of the strongest regional ratings in Major League Soccer over the past several years," said Bart Wiley, chief operating officer of the Seattle Sounders.
"In JOEtv, we're excited about having a singular, dedicated over-the-air television platform for our fans to enjoy Sounders soccer. We're thrilled to renew this agreement and continue working with a partner that is fully committed to growing our game throughout the region."
"We are thrilled to continue our official partnership with Seattle Sounders FC and for the opportunity to provide the most passionate supporters in MLS the coverage they deserve," added Pam Pearson, senior vice president and general manager of Q13 FOX and JOEtv.
The Seattle Sounders' 2018 MLS regular season is due to get underway on 4th March when they host newcomers Los Angeles FC.