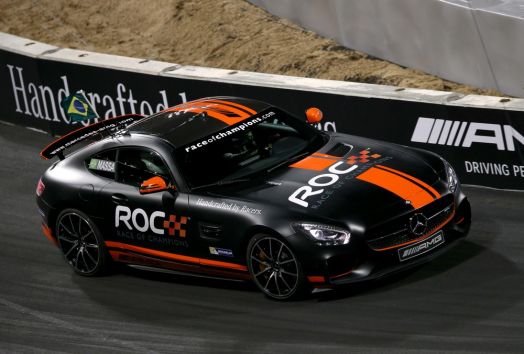 Saudi Arabia has been awarded the hosting rights for the 2018 Race of Champions (ROC 2018), event organisers have announced.
The two-day competition, which features drivers from Formula One, World Rally Championship, IndyCar and Nascar going head-to-head in identical cars, will be the first ever international motorsport event to be staged in the Asian country.
The 75,000-seater King Fahd International Stadium in the nation's capital of Riyadh will serve as the host venue for the event's first venture into the Middle East in its 30-year history.
An official statement from the ROC said that further details - including driver announcements and exact dates – will be announced shortly, but did confirm that the event will be open to both genders and will feature drivers, exhibitions and activities in keeping with the country's specific cultural requirements.
Saudi Arabia will become the tenth country to host the ROC, which was first organised in 1988 by former rally driver Michèle Mouton and International Media Productions president Fredrik Johnsson.
"Our organisation is honoured to be working with the president of the General Sports Authority, his excellency Turki Al-Sheikh, and Sela Sport chairman Dr Rakan Hussein to bring Race of Champions to the region for the first time in the event's 30-year history," said Johnsson. "As motorsport's most forward-thinking property ROC is an event perfectly suited to Saudi Arabia, which is emerging as a modern sports market on the global stage.
"With women able to drive in Saudi Arabia from 2018, we feel this is an auspicious moment to be bringing a motorsport event to Riyadh. Race of Champions is more than just a race: it is a truly global contest that includes many of the world's best drivers along with top-quality entertainment for families."