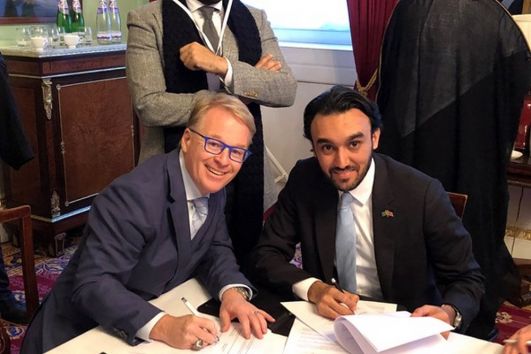 Golf's European Tour has agreed a long-term deal to stage a tournament in Saudi Arabia, marking the first time that a professional golf event has been played in the country.
The first of three annual tournaments included in the agreement will take place from 31st January to 3rd February next year at the Royal Royal Greens Golf and Country Club in King Abdullah Economic City.
The three-year agreement was finalised during the visit of Mohammad bin Salman bin Abdulaziz Al Saud, the Crown Prince of Saudi Arabia, to London this week.
The partnership ties in with Saudi Arabia's Vision 2030 initiative, which aims to showcase the country's desire to expand its business, leisure and tourism industries.
Keith Pelley, chief executive of the European Tour, said: "We are very excited to be talking the first steps toward bringing professional golf to the Kingdom of Saudi Arabia for the first time and I must thank his royal majesty, Mohammad bin Salman bin Abdulaziz Al Saud for his vision in making this happen.
"We are proud to be recognised as golf's global tour with tournaments in 30 countries this year alone and we are very much looking forward to adding Saudi Arabia to that list in 2019.
"We broadcast live coverage of our tournaments to more than 150 countries every week and we look forward to showcasing Saudi Arabia as part of that arrangement. I also hope this partnership will raise the profile of the game in the Kingdom and that we will see more Saudi players competing at the international level in the future."
Prince Abdulaziz bin Turki Al Faisal, deputy chairman of the Saudi Arabia General Sports Authority, added: "This landmark agreement is a defining moment in the development of professional sport in the Kingdom and a clear signal that the country is ready to compete at the very highest level.
"As we seek to increase the number of young Saudis participating in regular exercise as part of our national transformation plan, events such as this help encourage people to build sport into their lives and their careers."
Details of the official event title and prize money for Saudi Arabia's first golf tournament are set to be revealed at a formal announcement in May.