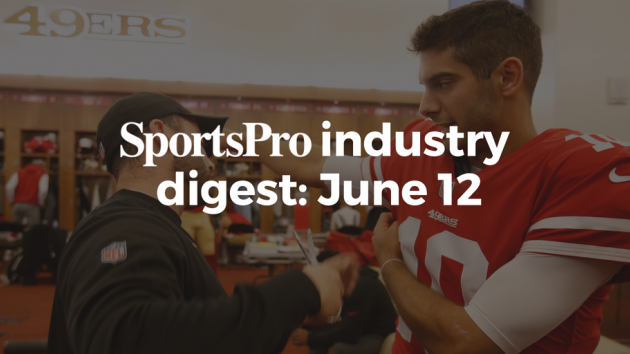 Top story
The National Football League's (NFL) San Francisco 49ers have partnered with 24 Hour Fitness and UFC Gym founder Mark Mastrov to launch a team-themed public gym in San Jose.
The gym is called 49ers Fit and the San Jose location is the first of several centres planned as part of the deal. The tie-up sees the 49ers design workout programs for customers, with new starters also getting official branded merchandise when they sign-up for an appropriately priced US$49 membership.
"We want to give people of all ages the feel of what that's like," 49ers president Al Guido told 49ers.com. "So, we're working with Ray Wright, our strength and conditioning coach, to put programs in place so you can work out like a 49er."
"Without a doubt, 49ers Fit is going to be considered the most innovative health & fitness facility in Northern California," Mastrov, who has also embarked on similar ventures with the Dallas Cowboys, told the 49ers.com. "No gym in the Bay Area will offer the combination of high-end amenities and affordability found at 49ers Fit, truly making it a gym like no other."
Sponsorship
English top-flight soccer club AFC Bournemouth have announce a multi-year contract extension with AudienceView, the deal sees the event management platform continue its relationship with the Premier League client to an incredible 17 and half years.
German soccer outfit Hertha BSC have announced Berliner Kindl will be as the club's official and exclusive beer partner, beginning from the 2018/19 Bundesliga season in a three-year partnership arranged by Lagardère Sports.
Greek Super League soccer club AEK Athens has entered into a kit supply partnership with US sports clothing and equipment manufacturer Capelli Sport.
Vanarama has announced it has renewed its title sponsorship of English soccer's fifth tier, The National League. Vanarama first took up the position in 2014 and now will continue hold the inventory for the next three years across all National League divisions.
The Glasgow 2018 European Championships has appointed Xerox as official provider of print and scanning services.
US insurance firm Geico has renewed its title sponsorship of the American round of the Superbike World Championship (WorldSBK) motorcycling series.
The Superhero Series has announced a new deal with Easyjet that sees the airline become a 'platinum' partner of the UK mass-participation events dedicated to people with disabilities.
The Brazilian Football Federation (CBF) has renewed its partnership with domestic pharmaceuticals company Cimed in a new four-year deal that runs from 2020 to 2023.
SmartSeries
Lancashire County Cricket Club has announced a new sustainable innovation to reduce plastic waste at its Old Trafford home with the introduction of a resusble cup scheme.
Investment
Ohio University and technology service provider ANC have announced a partnership to install a new centre-hung display for the Ohio University Convocation Centre, home to the athletic department's basketball, volleyball and wrestling programmes.
Bidding & Hosting
Nanjing in China is to host skateboarding's first Park World Championships this year ahead of the introduction of the sport to the programme of the 2020 Olympic Games in Tokyo.
The World Para Athletics division of the International Paralympic Committee (IPC) has announced that Dubai will host the 2019 World Para Athletics Championships.
Stockholm is set to stage the 2021 World Figure Skating Championships after the International Skating Union (ISU) awarded the Swedish capital provisional hosting rights for the event.
Movers & Shakers
The International Centre for Sport Security (ICSS), has promoted Karen Webb to the new position of group chief operating officer.
Avatar of the day
Social media avatar platform Bitmoji has scored a coup ahead of the World Cup by signing up both Nike and Adidas to licensing deals. Bitmoji users will be able to dress their avatars in the brands' official World Cup national team kits.
Bitmoji users can access the kit via Snapchat in Stickers and 3D Bitmoji AR Lenses, in Google Chrome and Gmail extensions, Gboard for Android and Bitmoji keyboard for iOS.
"Football fans are passionate and creative, and with Bitmoji kits we're giving supporters a new way to show their love of the game", said Ba Blackstock, creator of Bitmoji.
Our industry digest will update throughout the day as deals break so check back to make sure you do not miss a story