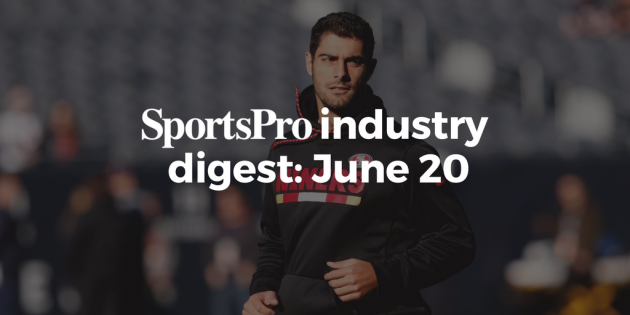 Top story
The National Football League's (NFL) San Francisco 49ers have announced that Datrium has become the team's official converged infrastructure provider.
The hyperconverged infrastructure (HCI) provider will help the team identify a consolidation solution to improve efficiency and provide the flexibility to grow and adapt its hybrid cloud digital storage. Future plans for additional applications, disaster recovery, data security and cloud-based data protection are all possible with the scalable Datrium platform.
"We used to have a sign posted by our practice field that said, 'Every day you get better or you get worse — you never stay the same,'" said Jim Bartholomew, San Francisco 49ers director of IT. "The same is true with 49ers IT. With Datrium, we expect better performance, faster RTO and options for Cloud that will better serve our coaches and staff. When we win on Sunday, we will take a lot of pride in knowing we had a part in that."
Datrium will consolidate the workloads from eight legacy storage arrays and aging servers to two Datrium DVX systems. DVX will serve 49ers coaches with critical video assets used for pre-game preparation and instant game-time decision making.
Sponsorship
German top flight soccer outfit Eintracht Frankfurt have extended their kit supply deal with Nike. The American sportswear brand will continue as the DFB Cup winner's technical partner until the end of the 2023/24.
Spanish top flight soccer side Villarreal CF have announced that Turkish ceramics company Gizemfrit has signed on as an official partner for one year.
Rainham Steel have been confirmed as new front of shirt sponsors for English third-tier soccer club Scunthorpe United for the upcoming season.
The University of Memphis athletics department have agreed to a five-year extension with Nike worth a reported US$11.25 million.
The 2021 England Rugby League World Cup has announced a new that Unicef UK has become the tournament's official charity.
Papua New Guinea-based corned beef company Ox & Palm have been announced as official naming rights partner for the international rugby league Pacific Test Invitational tournament for the next two years.
Spanish recycling and sustainability company Ecovidrio has renewed its sponsorship of the Vuelta a España cycling Grand Tour for the 2018 race.
International Motorcycling Federation's (FIM) Speedway Grand Prix series has signed up WD-40 as a partner. The global lubricant company will serve as the title sponsor of the Danish Grand Prix on 30th June and technical partner of the British Grand Prix in Cardiff on 21st July.
Tennis Australia has announced a partnership with Foriseland for the 2019 Australian Open, making Chinese developer official real estate partner on the China mainland.
Wasps Group, owners of the English top-flight rugby club Wasps, has agreed a long-term strategic partnership with global hospitality company Delaware North, giving the American-based firm exclusive rights to catering and hospitality services at the Ricoh Arena.
Media Rights
Pay-television broadcaster MTV Finland has renewed an agreement for rights to the Formula One motor-racing series for three-years until 2021.
The Caddie Network, a new digital content platform dedicated to professional golf caddies, is being launched by co-owned by Accelerated Growth Partners, the Association of Professional Tour Caddies (APTC) and ITR Management, with Paul Speaker, co-owner and former chief executive of the World Surf League, a primary investor.
Personal Endorsement
National Basketball Association (NBA) draft prospect Marvin Bagley has signed an endorsement deal with soft drink brand Mountain Dew.
SmartSeries
Ahead of this month's Volleyball Nations League (VNL) Women's Finals in Nanjing, the International Volleyball Federation (FIVB) is launching an official WeChat account.
Investment
Varsity Brands, which operates BSN Sports, the largest team sports equipment and apparel distributor for US students, is to be acquired by private equity fund Bain Capital.
Bidding & Hosting
Golf's Ladies European Tour (LET) has revealed the Kempferhof Golf Resort near to Strasbourg in France will host the 2019 European Ladies Open.
The European Handball Federation (EHF) has awarded hosting rights to its men's European Championships to a joint Hungary and Slovakia bid in 2022 and a Germany in 2024. The women's European Championship in 2022 will be co-hosted by Slovenia, FYR Macedonia and Montenegro.
Politics & Governance
German Basketball Bundesliga powerhouse Brose Bamberg has defected from the EuroLeague competition to sign a five-year deal to join the rival Basketball Champions League operated by FIBA.
Big problem of the day
World Cup fans risk drinking parts of Moscow dry, with watering holes in the Russian capital reportedly running low on stock and waiting longer than usual for fresh supplies.
An unnamed waiter told news agency Reuters that his restaurant ran out of draft lager on Monday and deliveries are taking longer than usual, at least 24 hours, because suppliers' stocks are also running low: "There are really a lot of people in Moscow ... and they are all drinking," he said. "It's hot, and it's football."
Beer sales in Russia have fallen by around a third over the past decade on the back of rising duties and tougher rules on sales and advertising, and brewers had not been expecting a major reversal of the trend this year.
Our industry digest will update throughout the day as deals break so check back to make sure you do not miss a story