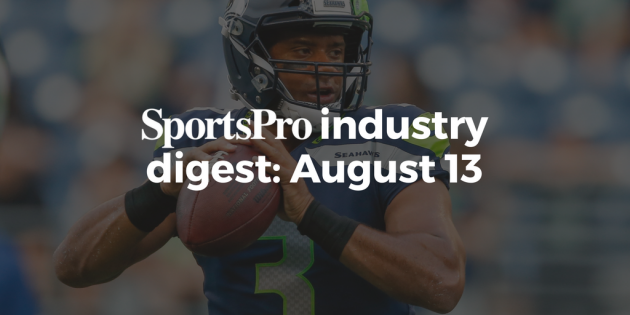 Top Story
Seattle Seahawks quarterback Russell Wilson has signed with talent representation agency WME, according to The Hollywood Reporter.
The deal will also see WME represent the National Football League (NFL) superstar's media and production company, West2East Empire, in areas including film, television, animation, voiceover and digital.
As part of the agreement, Wilson's attorney, Mark Rodgers of Frontline Athlete Management, will continue to negotiate his playing and marketing contracts.
Wilson's other business interests include men's lifestyle apparel line Good Man Brand and TraceMe, a social platform that connects fans to celebrities and boasts Amazon founder Jeff Bezos and Alibaba's Joe Tsai among its investors.
Wilson, 29, is one of the NFL's most marketable quarterbacks, and currently has partnerships with the likes of Nike, Alaska Airlines, Bose, Braun, Duracell, Microsoft and Wilson Sporting Goods.
Sponsorship
Major League Baseball's (MLB) Miami Marlins have named Bluegreen Vacations as their official vacation ownership provider for the 2018 and 2019 seasons.
Elsewhere in US sport, the Carolina Hurricanes of the National Hockey League (NHL) have announced a multi-year partnership with Vector Security, which will benefit from in-arena brand exposure until the end of the 2020/21 campaign.
Qatar Airways has been unveiled as the official airline of the upcoming 18th Asian Games in Jakarta and Palembang, which takes place from 18th August to 2nd September.
The World Rally Championship (WRC) motorsport series has teamed up with Spanish technology company Nano Nino in a deal which will see the two parties launch an exclusive membership scheme.
Ferry company Budo is the new shirt sponsor of top-flight Turkish soccer side Bursaspor in a deal reportedly worth US$427,000.
German lubricants manufacturer Liqui Moly will be a sponsor of the 2019 men's World Handball Championship, which will be co-hosted by Denmark and Germany.
In other handball news, the Licher brewery has agreed a deal to continue as the main sponsor of German Handball Bundesliga club HSG Wetzlar.
Media Rights
Direct-to-home and IPTV platform Digi has retained the rights in the Czech Republic and Slovakia for La Liga, the top flight of Spanish club soccer.
The Federation of Uganda Football Associations, the governing body for soccer in the country, has agreed a ten-year broadcast and sponsorship deal with pan-African pay-TV operator StarTimes. The contract is worth US$7.24m and covers the broadcast rights and title sponsorship for the Premier League and Big League, Uganda's top two tiers of domestic club soccer.
Eleven Sports has announced that its Myanmar sports service, My Sports, will have exclusive digital rights to the 2018 Asian Games.
Sony Pictures Network has secured the rights in India to the 2020 Uefa European Championship national team soccer tournament.
Indian mobile app Sports Flashes has agreed a deal with talkSPORT to acquire audio broadcast rights to English soccer's Premier League for the next four seasons.
Commercial broadcaster Servus TV has struck a five-year rights deal with Dorna Sports to continue its coverage of MotoGP in Austria, while it will replace Eurosport as the home of the global motorcycling series in Germany.
Swiss pay-TV broadcaster Teleclub has retained the rights to a host of European soccer properties, including Italy's Serie A and Ligue 1 in France, while it has become a new broadcast partner of the Dutch Eredivisie.
SmartSeries
Ahead of the international sports broadcaster's launch in Portugal next weekend, Eleven Sports streamed two games from Ligue 1, French soccer's top flight, on its Facebook page over the weekend.
Agencies
Sports marketing, events and PR agency KemperLesnik and GumGum Sports have announced a multi-year agreement to provide media valuation of the Maui Jim Invitational, an annual early-season college basketball tournament.
UK-based agency Oporto Sports Management has announced a 12-month marketing and communications partnership with the Guyana Football Federation to help raise awareness of soccer in the country.
Tease of the Day
The wait for Premier League side Tottenham Hotspur's hotly anticipated new stadium is almost over, but the club could not resist giving fans one last sneak peak of what the team's 62,000-seater home will look like.
A new partnership with EA Sports saw the video game developer release a clip featuring the ground as it will appear in the new FIFA 19 game. The video shows familiar scenes from outside the stadium before cutting to images inside the venue on a sold out Uefa Champions League night.
The stadium is expected to be ready for Liverpool's visit to North London on 15th September, but until then Spurs fans will have to make do with the video below.