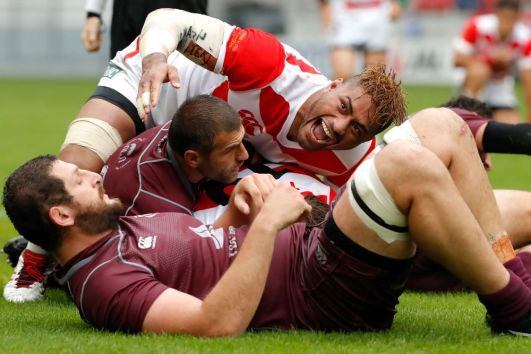 The number of teams taking part in the Rugby World Cup could be increased from 20 to 24 nations in time for the 2023 edition of the tournament in France, it has been hinted.
Ahead of the upcoming tournament in Japan in 2019, Canada, Kenya, Hong Kong and Germany are to battle it out in a playoff system for the right to be involved.
However, World Rugby chief executive Brett Gosper has suggested that he would be in favour of expansion, which would allow more countries from the second tier of the sport's world ranking system to compete.
Gosper said: "We're always looking from an expansive point of view, rather than reducing so it's just a question of when rather than if. We just want to make sure the teams are competitive enough to move to a 24-team tournament.
"In order to grow the sport it's about getting interest from new fans and commercial interest in new markets but you've got to make sure you've got the teams."
Alan Gilpin, the chief operating officer of World Rugby, as well as the head of the 2019 World Cup, also has fuelled the prospect of a more global product. The tournament has comprised of 20 teams since the 1999 tournament was held in Wales. Beforehand, the first three editions of the showpiece event featured just 16 teams.
Gilpin added: "We are definitely looking at expansion not contraction. We'd love to move to 24 teams."
New Zealand won the 2015 World Cup, which was held in England, retaining the crown that they had won four years earlier on home soil.
Next year's tournament in Japan will come four years after the Asian nation pulled off one of the biggest shocks in the competition's history, beating two-time winners South Africa in the group stage.