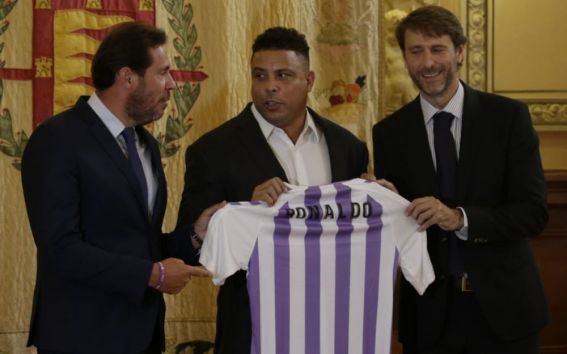 Former Barcelona and Real Madrid striker Ronaldo Nazario has concluded his purchase of Spanish top-flight soccer club Real Valladolid for €30 million (US$35 million).
The deal sees the former Brazil international become the newly promoted club's majority owner, taking a 51 per cent stake and replacing Carlos Suarez – who will remain on the club's board after seeing his 66 per cent holding reduced.
"Ronaldo's arrival puts Real Valladolid on the map and will allow the club to have a bit of quality," Suarez said. "I welcome him to his home."
"We want to build the best team possible to compete and will be transparent in our management," Ronaldo said. "Trust us to consolidate Real Valladolid in La Liga and for us to be able to grow the enthusiasm that there is.
"Together, I'm convinced that it will be very difficult to beat us. I want everyone to help build this club and I invite the fans to take part in this project. Give us ideas, opinions, criticisms and hopes. I want you to be a part of the present and future of Real Valladolid."
The puchase also end to months of negotiations over ownership of the club, which saw an agreement with Mexican businessman Ernesto Tinajero collapse after Suarez broke a signed pre-contract agreement.
A complex shareholder dispute between the ex-president and former partner in Ronaldo's wine business, Jose Moro, and Jose Luis Losada – both Valladolid vice-presidents last season – complicated the entire operation.
Valladolid were promoted back up to La Liga after a five-year absence for the 2018/19 season – drawing two of their three opening games, with a narrow loss to Barcelona in between.
The Brazilian had previously owned a stake in now defunct North American Soccer League (NASL) outfit Fort Lauderdale Strikers.