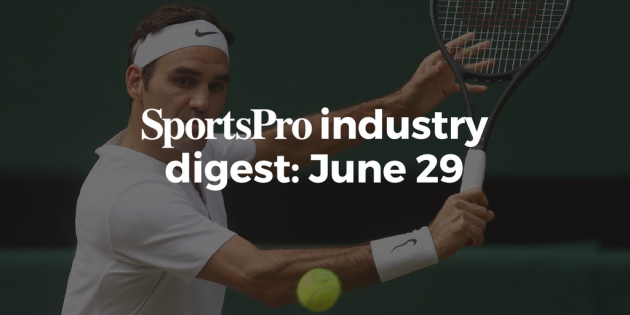 Top story
Swiss tennis legend Roger Federer will continue to wear a Nike outfit during the Wimbledon Championships Grand Slam amid rumours that he is about to ditch the American sportswear giant for Uniqlo.
Reports earlier this month suggested that the 36-year-old was preparing to end his career-long association with Nike in favour of a US$30 million deal with the Japanese clothing brand.
However, that speculation has been dampened for now, with the 20-time Grand Slam champion's all-white Wimbledon outfit revealed to be made by Nike.
Federer's endorsements are estimated by Forbes to be worth a whopping US$65 million per year, with his partnership with Nike believed to rope in an eye-watering US$10 million annually.
This year's Wimbledon Championships get underway on 2nd July, when Federer will be looking to assert his dominance over the competition with a ninth tournament win.
Sponsorship
The International Basketball Federation (FIBA) has signed a global partnership with Chinese electronics brand TCL covering all of the governing body's competitions until the end of 2019.
British bookmaker Ladbrokes has extended its sponsorship of snooker's World Grand Prix and Players Championship, and added the new Tour Championship to its portfolio. The three tournaments will form the Labrokes Series on World Snooker's 2019 calendar.
Minor League Baseball (MiLB) has partnered with Cartoon Network (CN) for a summer-long promotion which will include pre and post-game screenings of the American channel's most popular animated shows, video mashups featuring CN programmes and characters mixed with MiLB game and ballpark experience highlights, as well as in-game vignettes featuring Cartoon Network's Stop Bullying Speak-Up pro-social campaign.
Portuguese soccer giants Benfica have named Inimigo Clothing as their official fashion partner. The company will design two exclusive clothing lines for the Primeira Liga club, one more formal for players and employees and another more casual purely for the players.
Top-flight German soccer outfit Mainz 05 have extended their shirt sponsorship deal with Kömmerling, which will continue to have its logo adorn the front of the Bundesliga team's playing shirts until the end of the 2021/22 season.
Betdaq, the betting exchange property, has agreed to sponsor the starting stalls of nine Arena Racing Company (ARC) UK racecourses for the remainder of the 2018 flat season.
SmartSeries
Audi Field, the new home of Major League Soccer's (MLS) DC United, has teamed up with Recycle Track Systems, a waste and recycling management company, to implement initiatives to expand the arena's environmental focus when it opens in July.
NBA 2K League esports team Magic Gaming, who are owned by the Orlando Magic, have teamed up with popular headset brand Hyper X.
Flight cancellation of the day
Less than two weeks after naming Thomas Cook Sport as their official travel partner, Scottish soccer side Rangers have announced that they will be unable to offer fans travel to their Uefa Europa league qualifier through the UK-based operator.
The Scottish Premiership outfit take on Macedonia's FK Shkupi on 19th July, but fans wanting to go to the game will have to make their own plans.
The club said in a statement that the limited aircraft available had 'led to huge cost implications', which the two parties 'have agreed is not fair or feasible on this occasion.'
When the partnership was announced, Rangers said the deal would allow the team and staff to 'travel seamlessly across the country and further afield around Europe', but on this occasion, it would appear not.
Our industry digest will update throughout the day as deals break so check back to make sure you do not miss a story