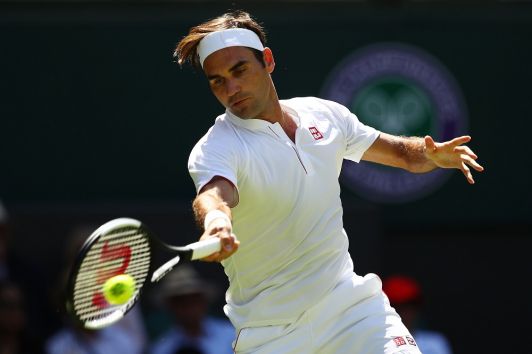 Swiss tennis legend Roger Federer is still looking for a new shoe contract but says he has had interest from former sponsor Nike.
Federer confirmed his switch from the US sportswear brand to Uniqlo on the first day of Wimbledon by walking out to play in his new outfit but remained in personalised Wimbledon Nike trainers as he beat Dusan Lajovic in straight sets on Monday.
Speaking to the press post-match the 36-year-old confirmed that he does not currently have a footwear deal and that he is exploring his options, of which Nike remains one.
He said: "I don't have a shoe deal. I'm looking forward to see what shoes I will be wearing in the near future. For now, I will be wearing Nike. They have shown interest to have a shoe deal with me, as well. Ties are not broken there.
"I have deep roots with Nike. I've had a great relationship over the last 20 years. But everything is open. Yeah, it's very exciting also again to see what's out there, who wants to do something with me."
Nike still own the iconic RF logo after parting ways with Federer, but the Swiss is confident the company will hand it over.
"[I hope] Nike can be nice and helpful in the process to bring it over to me. It's also something that was very important for me, for the fans really."
He added: "The good news is that it will come with me at one point. They are my initials. The good thing is it's not theirs forever. In a short period of time, it will come to me.
"Obviously we also need to figure out with Uniqlo when at one point we can start selling clothes for the public as well. All this has just gotten underway.
"We're hopeful the beginning of next year people can also start buying my stuff. For the moment, as fast at retailing as they are, as great as they are, it just needs a bit of time."
The 20-time Grand Slam champion has ended his career-long association with Nike in favour of a deal with the Japanese brand, which is reportedly worth US$300 million and is set to last ten years.
Roger Federer will play Slovakia's Lukáš Lacko on Wednesday in the round of 64 at Wimbledon.