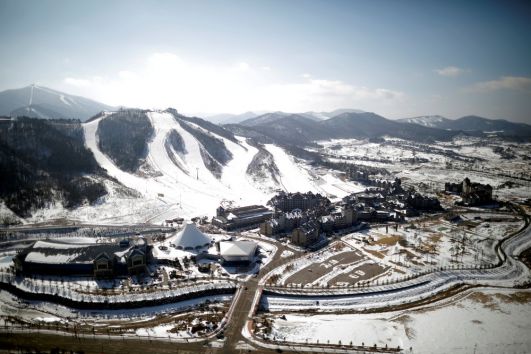 The Russian Olympic Committee (ROC) has agreed to allow clean Russian athletes to compete as neutrals at the 2018 Winter Olympics in PyeongChang.
The decision follows an International Olympic Committee (IOC) ban for the ROC from the 2018 event for 'unprecedented systematic manipulation' of the anti-doping system. The Olympic governing body also suspended the ROC and Alexander Zhukov, president of the ROC, as an IOC member, as well as barring Vitaly Mutko, the deputy prime minister of Russia and former sports minister, from all future Olympic Games.
More than 30 Russian athletes have received lifelong bans for breaches of anti-doping rules.
The IOC ruled that selected Russian athletes with a history of non-doping could compete as neutrals at PyeongChang under the name 'Olympic Athlete from Russia'. Athletes doing so would compete under the Olympic flag, and the Olympic anthem would be played for any Russian gold medallists during ceremonies.
The ROC's decision to reject a boycott of the event, which also curtails fears of athletes competing against the wishes of the Russian state, was agreed during a closed congress on Tuesday. Around 200 Russian athletes are believed to be considering competing under the neutral designation.
"Russian sportsmen have stated their readiness to take part in the Olympic Games, despite the difficult conditions and decision of the IOC, which is undoubtedly unfair in many ways," said Zhukov. "Obviously we consider this ruling unfair, but at the same time we're in the situation where we had to make a decision even though we consider this ruling unfair. The opinion of all taking part was united, and that was that our athletes need to go to South Korea, compete and win."
"A boycott is not a solution," added Vitaly Smirnov, senior official of the ROC. "That [would mean] new sanctions and problems for our athletes."
"We spoke with all of the athletes from each category of winter sports," said Sofia Velikaya, a Russian Olympic official. "The majority of Russian athletes want to take part in the Olympics. I ask the Russian public to treat the decision with respect and understanding."
The 2018 Winter Olympic Games are due to take place from 9th February to 25th February in PyeongChang in South Korea, with the Paralympics scheduled for 9th March to 18th March.