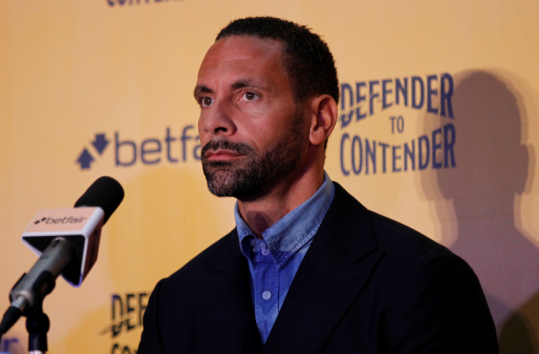 Former professional soccer star Rio Ferdinand has partnered with gambling company Betfair to launch his new career as a professional boxer.
Betfair, alongside sports marketing and PR company Pitch, will work with Ferdinand to help him qualify for his British Boxing Board of Control (BBBOC) licence before he begins training for his first competitive fight. The whole process will be filmed for a TV documentary series.
The campaign, entitled "Defender to Contender", is the second such effort undertaken by Betfair after it backed cyclist Victoria Pendleton's move into horse racing, which saw the Olympic gold medallist finish fifth in the Foxhunter Chase at last year's Cheltenham Festival.
"The chance to prove myself in a new sport was a real draw," said Ferdinand. "Boxing is an amazing sport for the mind and the body. I have always had a passion for it and this challenge is the perfect opportunity to show people what's possible. It's a challenge I'm not taking lightly, clearly not everyone can become a professional boxer, but with the team of experts Betfair are putting together and the drive I have to succeed, anything is possible."
Meanwhile, Stephen Mault, brand director for the UK and Ireland at Betfair, added: "Betfair is dedicated to supporting Rio Ferdinand throughout this ground-breaking sporting transformation. Rio stood out as the perfect personality to undertake this challenge, as he knows all about the hard work and dedication it takes to succeed.
"With Rio's sporting pedigree, our support network, and a lot of hard work, we're all confident that Rio can compete for a belt."
Not everyone in the boxing world has so far been convinced by the announcement. Veteran promoter Barry Hearn, the founder of Matchroom Sport, called the move "laughable," adding that the former Manchester United and England star "could get himself badly hurt."
Ferdinand follows in the footsteps of Ashes-winning cricketer Andrew Flintoff, who emerged victorious from his first and only bout to date against American fighter Richard Dawson in 2012. Meanwhile, boxer Curtis Woodhouse became British super-lightweight champion in 2014, having abandoned a career in soccer to take up the sport.