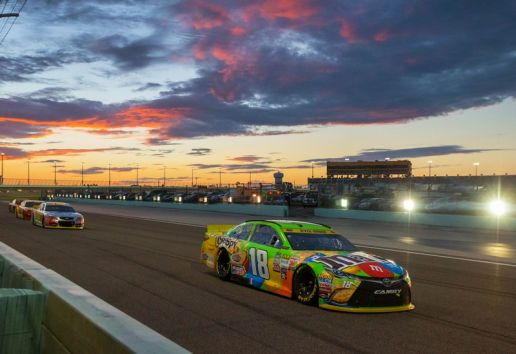 Nascar racing team Richard Petty Motorsports (RPM) have announced an extension of their partnership with Pioneer Technology Group (PTG).
The software systems company will continue to serve as a major associate sponsor of the number 43 team and driver Darrell Wallace Junior.
The PTG logo will feature on the rocker panel of the number 43 Chevrolet Camaro throughout the 2018 Monster Energy Nascar Cup Series season, and on the uniform of Wallace.
The company has been a partner of RPM since 2006 and has helped optimise information storage about the racing team, as well as overseeing the distribution of RPM's history via social media with its 'Throwback Thursday' feature.
PTG will continue to share documents digititised by its technology via RPM's social media platforms throughout the season.
"Richard Petty Motorsport and the Petty family have relied heavily on the specialised services of Pioneer Technology Group throughout the years," said Brian Moffitt, chief executive of Richard Petty Motorsports. "Their partnership has helped RPM work more efficiently, a goal of anyone in the business of speed. We welcome them back to the team in 2018."
"Our partnership with Richard Petty Motorsports has been an important one and has helped our business to grow," added Steve Rumsey, chairman and chief executive of PTG. "We can't wait to see what the future will bring, especially now, as we build and open our new office in Yadkinville, North Carolina, the heart of racing country."
Meanwhile, Wallace has himself signed a personal endorsement partnership with Cobra Electronics.
The driver will serve as a brand ambassador for Cobra's line of mobile electronics and its driver awareness devices, which include driver alert systems, dash cams and citizens band radio.
Wallace became the first African-American in 50 years to win a race in one of Nascar's top three touring series in 2013, and now has six national series victories to his name.
"Partnering with an innovative company like Cobra is a great opportunity," said Wallace. "Cobra designs and makes a great line of products that keep drivers safe and aware out on the road."
"We are excited to partner with Bubba [Darrell Wallakce] as he enters the biggest stage of his racing career," added Chris Kooistra, senior director of brand partnerships at Cobra Electronics. "Bubba's popularity and rise to the sport's top series enables Cobra to reach the next generation of drivers and educate them on Cobra's solutions to protect them while driving."
The 2018 Nascar Cup Series season is set to begin on 18th February with the Daytona 500 at Daytona International Speedway, Florida.