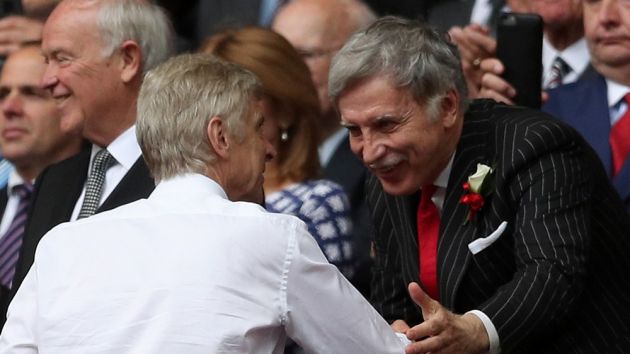 Stan Kroenke, the majority shareholder of top-tier English soccer side Arsenal, has reportedly bid UK£525 million (US$697 million) to buy out the club's second largest shareholder, Alisher Usmanov.
The American, who also owns the National Basketball Association's (NBA) Denver Nuggets, the Colorado Avalanche of the National Hockey League (NHL) and the Colorado Rapids of Major League Soccer (MLS) through his Kroenke Sports and Entertainment (KSE) venture, holds a 67 per cent stake in the Premier League outfit, while Usmanov owns 30.4 per cent, with the remaining shares belonging to minority shareholders.
Usmanov, who boasts a net worth of nearly US$15.1 billion according to Forbes, has tried to gain full control of the Gunners on several occasions, with Kroenke himself resisting the Russian's latest UK£1 billion attempt at a takeover in May of this year.
The pair do not have a working relationship, and Usmanov has never been able to secure a seat on the board or influence any decisions. If Kroenke's bid is successful, he would take his share in the 13-time English champions to 97 per cent, putting him in a position to force out the remaining shareholders, which raises the prospect of Arsenal becoming a privately-owned business.
According to the UK's Guardian newspaper, the news will alert a consortium of longstanding Arsenal supporters who have expressed interest in purchasing the club three times in the past year. They made two inquiries to Kroenke with a valuation of UK£2 billion, before making a third attempt in June with an offer to buy out Usmanov on the premise that they would receive a seat on the board. Kroenke rejected all three approaches.
Commenting on Kroenke's bid, a spokesman for the consortium told the Guardian: "We are owned 97 per cent by two very wealthy individuals but it is a disappointment that they have never managed to get together and see eye to eye to move the club forward. The benefit of their wealth and experience could have been felt in unison but Arsenal has not been able to gain from it.
"We absolutely retain an interest. We are a group of experienced local business folk who have had a longstanding involvement with Arsenal. We came together three years ago with a vision to dislodge the impasse that exists with the current ownership. We wanted to find an alternative. Our group have spent three years searching for the right backer. After our own due diligence we were delighted to have found that a year ago. We have gone out to find the money for Mr Kroenke and Mr Usmanov to make a huge profit and for us to get the club back where it should be challenging at the top.
"If Kroenke were to get to 97 per cent he can force Arsenal into becoming a completely private company. That would be a major concern for everyone involved in Arsenal. At that point transparency would be a real minimum."
Kroenke bought an initial 9.9 per cent stake in Arsenal in April 2007, steadily building up his interest in the club to complete a majority takeover in April 2011. Usmanov has held a significant shareholding since August 2007, when he and business partner Farhad Moshiri – now owner of Premier League side Everton – bought the 14.58 per cent stake held by former Arsenal vice chairman David Dein.
In response to Kroenke's buy-out attempt, Usmanov, 64, released a statement on Wednesday saying he is "not holding any talks" with the American.
"I see my 30 per cent stake as an important aspect in protecting the best interests of the fans in the club," he said. "My interest in Arsenal from the beginning was long term and my intention has always been to buy additional shares should they become available.
"I would like to assure supporters that I am open to various future scenarios - a constructive partnership with the majority shareholder, the purchase of his stake either alone or in a consortium, or if a party appears who shares my and undoubtedly the majority of fans' vision for the club, I could consider the question of selling my stake."