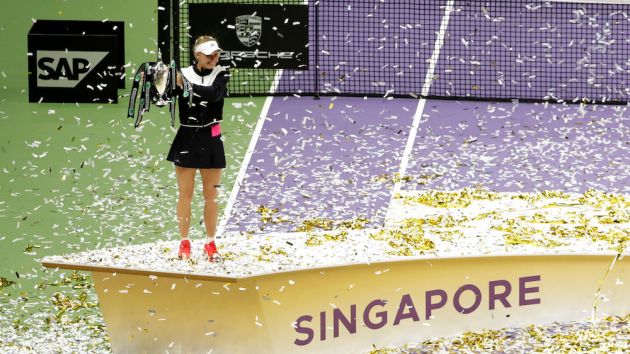 The Women's Tennis Association (WTA) has chosen the Chinese city of Shenzhen as the next host of its season-ending Finals tournament.
The organising body for elite women's tennis announced the decision on Wednesday, following earlier reports that its board had voted in favour of the move.
Shenzhen's successful bid was put forward by Gemdale Corporation, one of China's largest real estate developers. As part of the bid, the company has committed to doubling the tournament's total prize money - from US$7 million to a record US$14 million - and building a new US$450 million, 12,000-seat arena in the city's downtown area.
The ten-year hosting deal, which will run from 2019 until 2028, has been described as the biggest commercial agreement ever signed in women's sport.
"It gives me great pleasure to announce that the dynamic city of Shenzhen has been chosen to host the WTA Finals, the WTA's crown jewel season finale, for the next decade," said WTA chief executive and chairman Steve Simon in a statement.
"This will easily be the largest and most significant WTA Finals deal in the 45 years since the WTA was founded and promises to take the event to a spectacular new level."
The WTA Finals, the tour's blue riband event which features the world's top eight women's singles players and doubles teams, has been staged in Singapore since 2014. However Lagardere Sports, the event's promoter, and the Singapore Tourism Board (STB) decided not to seek an extension of their hosting contract beyond 2018.
The Straits Times reports that Singapore's refusal to pursue an extension 'stems from the inability of all parties involved to agree on the value and price of the Finals'.
The WTA's decision to head to China comes after it emerged in October that the organisation was considering bids from at least four cities, including Shenzhen, Manchester, Prague and St Petersburg, Russia. At the time, reports said a final decision would be made this coming April.
During last year's tournament, which drew more than 133,000 spectators, WTA chief executive Steve Simon said the body was "very interested in discussing an extension" with Singapore.
Located in the southern Chinese province of Guangdong, Shenzhen already features as a stop on the WTA Tour - the city's Longgang Sports Centre hosts the WTA Shenzhen Open, an International-level event which takes place in early January.
Until 2001, the WTA's showpiece Finals had only taken place in the United States, with New York City hosting from 1979 to 2000. Since then it has travelled to several international cities, including Munich, Madrid, Doha and Istanbul.
This year's event is due to run from 21st to 28th October at the Singapore Indoor Stadium.