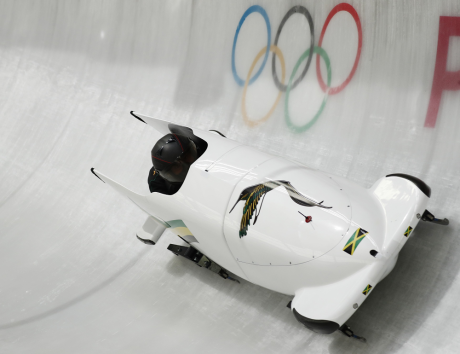 The Jamaican women's Olympic bobsled team have partnered with Red Stripe, which funded the purchase of a new sled following the resignation of the team's coach ahead of the 2018 Winter Olympics in PyeongChang, South Korea.
Sandra Kiriasis 'elected not to continue her position' as driver coach to the women's team, according to the Jamaica Bobsleigh Federation (JBSF). The news came just days before the team's athletes Jazmine Fenlator-Victorian and Carrier Russell were due to become Jamaica's first female Winter Olympians.
JBSF president Christian Stokes told news outlet Reuters that Kiriasis was 'a hugely destructive force on the team.'
The BBC reported that the departure of Kiriasis, who they said owned the sled the Jamaicans were planning to compete in, came after she was asked to change her role.
Upon leaving, media reports say that Kiriasis claimed she had leased the team's sled and was legally and financially responsible for the equipment. She allegedly refused to return it unless the team paid for the sled.
However, Jamaican beer company Red Stripe offered to fund the team's sled in a tweet posted on social media platform Twitter on Friday, and paid US$50,000 for the new bobsled equipment.
"This is not a joke," a general manager from Red Stripe said. "The Games are an honour to compete in, and as the number one beer in Jamaica, we want to help those athletes realize their dreams. The athletes clearly have no quit, so we would love to do our part and put the cost of a new bobsled on our 'bar tab.'''
Chris Stokes, president of the Jamaican Bobsled and Skeleton Federation, added: "We have been gifted a bobsled from Red Stripe. We have accepted their generosity and we are currently preparing the sled. The team is in competition mode and we are focused on one goal - coming to the start line prepared mentally and physically."
The Jamaican women's bobsled team are making their Olympic debut at PyeongChang 2018, 30 years after a Jamaican men's team first made their first appearance in 1988 - an event that inspired the popular Disney film Cool Runnings.