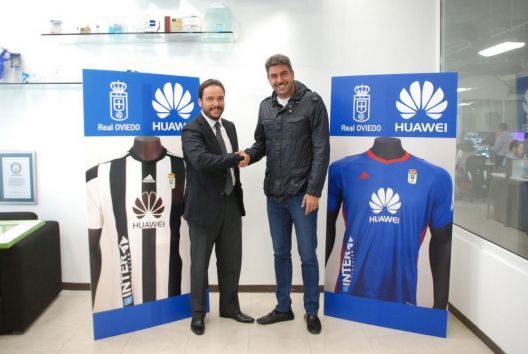 Second-tier Spanish soccer side Real Oviedo have announced mobile phone manufacturer Huawei as their new main sponsor.
The deal will see the Chinese brand's logo adorn the front of the Segunda División outfit's playing shirts for the duration of the 2017/18 season.
Huawei will also benefit from extensive brand exposure throughout the club's Estadio Municipal Carlos Tartiere home ground and across their digital channels. The financial terms of the agreement were not released.
"We are filled with pride to announce that Huawei is joining this alliance," said Arturo Elías Ayub, a spokesman for Grupo Carso, the company which owns Real Oviedo. "They, in the same way as ourselves, believe in teamwork, in mutual growth, and in overcoming obstacles through cooperation and collective effort.
"We have both found a new ally in Real Oviedo to strengthen these values. We share this collaborative spirit, which we know to be the key; not only to reaching new goals during the current season, but also to creating new opportunities over the course of the season."
Rodrigo Hevia, a representative of Huawei Mexico, added: "Through this passionate sport, and in the context of Real Oviedo's great traditions, both Claro and Huawei will create activities, campaigns and collaborations which will not only strengthen the value of our brands, but also bring victories and achievements for the team through our shared resources. This will give us a close bond to our consumers in all corners of the globe, thanks to the passion we all share for football around the world."
Real Oviedo are tenth in the Segunda División following their 1-1 draw away to Sporting Gijón on Saturday, and play their next fixture at home to table-topping Cádiz on 17th September.