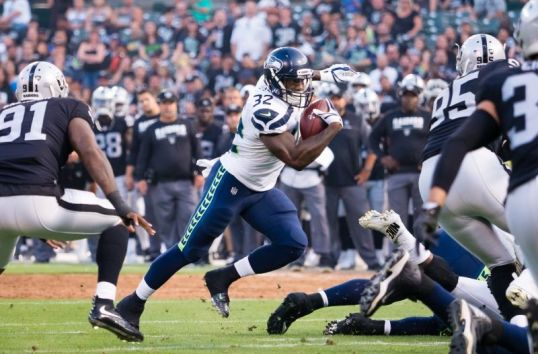 The National Football League (NFL) has confirmed three London games for its 2018 season.
The Oakland Raiders will host the Seattle Seahawks in the first NFL game at the new White Hart Lane home of Premier League soccer club Tottenham Hotspur, which has been built with a retractable pitch so as to be better suited for gridiron, on 14th October, ahead of two games at Wembley Stadium. The Jacksonville Jaguars will return to the UK capital to play the Philadelphia Eagles, while the Tennessee Titans will play at the Los Angeles Chargers.
All three games will be played in consecutive weeks, with NFL executive vice president for international Mark Waller suggesting at a press event in Tottenham that testing back-to-back scheduling could mark another step towards moving a franchise to London on a permanent basis.
No games will be played at Twickenham Stadium, which hosted the NFL in 2016 and 2017. Tottenham Hotspur, who have signed a ten-year agreement with the league, expect to stage additional dates in future seasons.
"The fans have demonstrated outstanding support and passion for the NFL over the past 11 seasons and we look forward to some great games in London this year," said NFL commissioner Roger Goodell. "A key feature of our success is playing in iconic, world-renowned venues like Wembley and Twickenham, and we look forward to playing in what will be another incredible setting for NFL football at Tottenham's new stadium."
Waller added: "This is another important year as we develop our plans for London and the UK. By playing games on three consecutive weeks we will learn a lot, both from the fans buying tickets and attending games, and from a logistics and organisational standpoint.
"We are very excited about playing our first game at Tottenham's magnificent new stadium and will follow our usual pattern of playing one game in our first season at a new venue, as we did at Wembley and Twickenham in previous years. This enables us to achieve important learnings relating to the fans' preferences, ticketing, team logistics and local transportation and infrastructure in order to create the best possible experience and environment. We will play an additional game at Tottenham in a future season, over and above the planned two per year, to make up for this."
Sadiq Khan, the mayor of London, said: "London is the international home of the NFL and I am really excited to welcome the world's best American football stars and their thousands of fans from around the globe back to our city.
"I'm delighted Tottenham Hotspur's fantastic new stadium is joining the line-up of world class sports arenas in our great city. Spurs' new ground will stage one game in its first year of opening and in 2019 we look forward to going back to staging at least four NFL games in London. Once again, London has shown why it is the sporting capital of the world and open to the very best sports events."
Tottenham Hotspur are currently playing their home games at Wembley Stadium while they await the completion of their new ground, which is expected to be ready in time for the 2018/19 English soccer season. Speaking in London, Waller indicated that Wembley might be used as a contingency option in the event that the new venue is not ready in time.