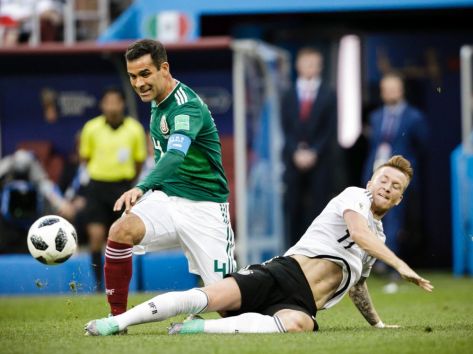 Rafael Marquez's presence at the World Cup is causing problems for Fifa, due to the Mexican veteran's presence on the US Treasury Department blacklist
The unprecedented measure prevents any American individual, bank or business from associating with Marquez as he represents his nation in Russia.
Marquez is accused of assisting Raúl Flores Hernández, who himself is suspected of leading a drug trafficking organisation. Although Marquez has not been charged with any crime, he has been blacklisted since August 2017 and has had his American financial assets frozen.
In terms of how the Marquez scandal affects Fifa's flagship tournament, the issue lies in the competition's major sponsors. Because of the nature of the regulations that accompany his blacklisting, he cannot even be pictured in the presence of American branding.
Four of the World Cup's major associated brands are American: Budweiser, Coca-Cola, MacDonalds and Visa. All four feature on the advertising boards present at any official media appearance, meaning that Marquez can only speak without any branding present whatsoever, while a non-American translator would have to be used if Marquez were to conduct a press conference.
The New York Times report that the severity of the restrictions on the 145-cap defender are such that he has been allocated his own bottle and training jersey in order to avoid wearing branded clothing or drinking Powerade, the sports drink owned by Coca-Cola. Similarly, team flights have been carefully considered because Marquez is barred from travelling on American-owned aircrafts.
Were Marquez to be awarded Fifa's Man of the Match award, he would be unable to claim it. The prize is sponsored by Budweiser, the American beer. He has agreed not to be paid for his participation in the tournament.
Marquez has denied all links to Hernández and his lawyers have stated that they are in the process of discussing the matter with US officials.
In a statement Fifa said: 'We take seriously the actions of the US Treasury Department, and we have structured our World Cup operations so as not to violate US sanctions laws.'
The 39-year-old defender became only the fourth player of all time to appear at five World Cups when he came on as a substitute in his country's shock win over Germany.