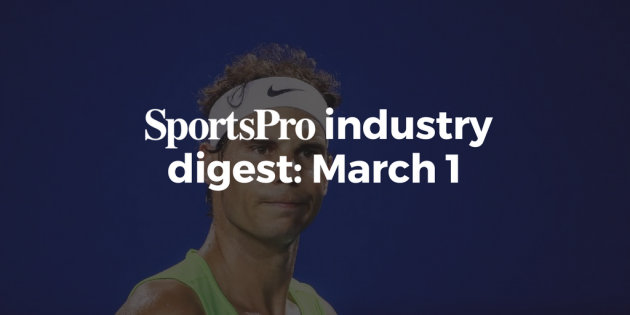 Tennis: World number two Rafael Nadal is opening a chain of tennis centres at select vacation resorts across the world, with the first to open in November this year at Costa Mujeres, north of Cancun, Mexico.
The Rafa Nadal Tennis Centre Mexico is being launched in partnership with the Palladium Hotel Group and follows on from Nadal's academy in Mallorca, Spain.
"I am happy to present this new project in Mexico. With the experience we have with tennis and following the same line of Rafa Nadal Academy by Movistar, we feel it will be an important attraction for people. I look forward to seeing the project finished and will see him personally," said Nadal.
News of Nadal launching a venture in the North American country comes after the veteran pulled out of the Mexico Open having aggravated the leg injury that also forced him out of the Australian Open.
Football: Don Yee, Tom Brady's agent, has signed on Adidas as a founding partner of his planned alternative developmental football league, Pacific Pro Football. Yee wants to begin the league in the summer of 2019 with four teams based in southern California.
"We're honored to have one of the world's greatest brands and iconic companies validating the concept," Yee, chief executive of Pacific Pro Football, told USA TODAY. "(But) we still have a lot of work to do."
Elsewhere, American Flag Football League (AFFL) and the National Football League's (NFL) media arm, NFL Network, have announced an agreement to broadcast 11 live AFFL games, and distribute highlights from the AFFL's 2018 US Open of Football (USOF) tournament.
Soccer: Major League Soccer (MLS) franchise Minnesota United have partnered with Daktronics, with the electronics company to deliver new LED displays for Allianz Field, the team's new, soccer-specific stadium in St Paul, Minnesota. This summer, one main display and ten ribbon displays will be installed at the new stadium.
The Ekstraklasa, Poland's top tier, has signed a letter of intent with Lagardère Sports Poland over a partnership to launch a domestic esports league competition.
In Italy, Serie B outfit Venezia have named Vodafone Italia as their top partner, with the telecommunications network to provide supporters a platform to follow the club live.
Cycling: La Vuelta has signed a sponsorship deal with Continental Tires. As part of the deal with the Germany company - also sponsor the Tour de France - Óscar Pereiro, a former racer and Tour de France winner, has been appointed brand ambassador for cycling activities in Spain.
Futsal: Magnus, a cattle and dog food company, has entered into an agreement with the Brazilian Confederation of Futsal (CBFS) and the National Futsal League (LNF) for naming rights and master sponsorship of the Futsal Super Cup.
MMA: Eleven Sports and Cage Warriors are following up their first major event on Belgian soil with a return to Antwerp for Cage Warriors 94 on 16th June at the Lotto Arena.
Elsewhere, Glory and Fox Sports Latin America have announced a multi-year broadcast deal. Under the terms of the contract, Fox Sports will air every Glory numbered event to over 50 million households in Mexico, Central America and South America, excluding Brazil. The media package was negotiated by MP & Silva.
Golf: Pine Needles Lodge & Golf Club in North Carolina, will host the US Women's Open for a record fourth time in 2022.
Saskatchewan PGA Tour player Graham DeLaet has signed a sponsorship deal with The Mosaic Company.
Motorsport: Team Brit (British Racing Injured Troops), a motorsport team aiming to be the first ever all-disabled participant in Le Mans 24-hours race has sealed a UK£100,000 sponsorship deal with blockchain provider Dragon Inc.
Olympics: The Indian Olympic Association (IOA) has renewed its partnerhsip with financial services conglomerate Edelweiss Group and has signed new partnerships with fabric manufacturer Raymond and sportswear brand Shiv Naresh. Edelweiss will sponsor the Indian team at the 2018 Commonwealth Games and Asian Games, the 2020 Tokyo Olympic Games, and the National Games in 2018 and 2019.
Basketball: British Basketball League (BBL) club Leeds Force have signed a name sponsorship deal with Leeds Bradford Airport for the remainder of the 2017-2018 season. Also in the BBL, the Leicester Arena, home of the Leicester Riders, has announced a three-year naming rights deal with Morningside Pharmaceutical. The 3,000-seater venue, which was opened two years ago, will be known as the Morningside Arena.
Easycredit Basketball Bundesliga side Fraport Skyliners have announced Wisag as a new secondary jersey sponsor.
Ice-hockey: German Ice Hockey League (DEL) outfit, the Iserlohn Roosters have extended their sponsorship deal with the Märkische Bank until the end of the 2020/21 season.
Horse racing: Jockey Club Racecourses, in conjunction with partner Xirrus, has announced the completion of the largest multi-site installation of free public wi-fi in Europe, which is now live at all 15 of its racecourses nationally.
Partnership of the day
English soccer club West Ham and their sponsor Betway are leveraging their deal with the club's players being used to promote the upcoming Cheltenham Festival. The latest video is actually pretty good and sees the players try their hand at racing commentary. Check it out below.
Our industry digest will update throughout the day as deals break so check back to make sure you do not miss a story