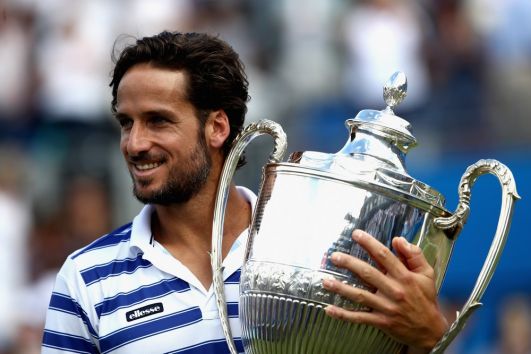 The Lawn Tennis Association (LTA) has unveiled premium mixer drinks brand Fever-Tree as the new title sponsor of the Queen's Club Championships men's tennis tournament in London.
The three-year deal will see the grass-court event renamed the Fever-Tree Championships from this year until 2020. The tournament forms part of the ATP World Tour 500 series, and is one of the main warm-up tournaments for the Wimbledon Grand Slam.
Fever-Tree replaces life insurance firm Aegon as the title sponsor of the championship, and also joins beer brand Stella Artois as only the third company to put its name to the event. To celebrate the inaugural Fever-Tree Championships, a special edition Championship G&T will be sold exclusively at this year's event.
"We are delighted that Fever-Tree has partnered with one of the most popular events in the summer sporting calendar," said LTA chief executive Scott Lloyd. "This is a significant and exciting brand association for British Tennis and marks a new chapter in the event's history. The Queen's Club has always showcased the very best of British and international tennis and this year the new Fever-Tree Championships will be no exception."
"The launch of the Fever-Tree Championships marks an exciting and historic moment for Fever-Tree," said Fever-Tree chief executive Tim Warrillow. "The annual tournament at The Queen's Club is already a very prestigious British sporting event and this partnership perfectly reflects our values as a premium brand, celebrating a great summer of sport.
"Alongside the LTA and The Queen's Club, we look forward to welcoming tennis fans from across the globe to the Fever-Tree Championships as they come to watch some of the greatest tennis talent in the world."
"This is fantastic news," added Stephen Farrow, tournament director of the Fever-Tree Championships. "Fever-Tree is a perfect fit for us - a premium brand known for quality. The Queen's Club has been the venue for this tournament for more than a century, the roll of honour features all-time greats such as Rod Laver, John McEnroe, Pete Sampras, Rafael Nadal and Andy Murray, and this will be the 40th year that the event has been covered by the BBC.
"As the Fever-Tree Championships, we will be looking to build and improve the tournament experience still further for players, ticket-holders, media and everyone involved with the event."
The 2018 Fever-Tree Championships will take place from 18th to 24th June. Last year's event was won by Spain's Feliciano Lopez (pictured).