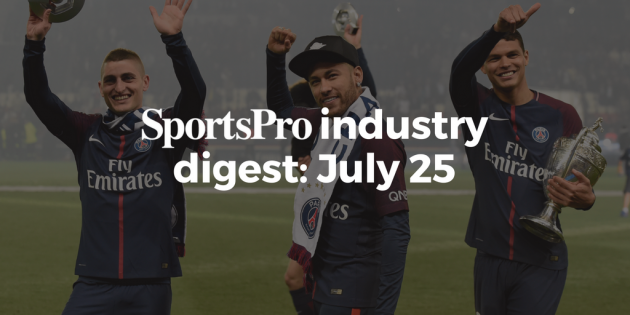 Top story
French soccer champions Paris Saint-Germain (PSG) will become the first club to sport Nike's basketball shoe and apparel line, Jordan Brand, as their kit sponsor, according to various media reports.
It is not yet clear what the details of the partnership entail, but GQ Magazine reports that the Ligue 1 giants could wear Jordan-branded kits in the Uefa Champions League as early as next season.
Any deal would be an expansion of PSG's existing kit partnership with Nike, which holds an agreement with the club until 2022.
While PSG star Neymar has worked with Jordan Brand, this partnership between the club and the brand would represent the first such collaboration between a basketball brand and a soccer side.
Sponsorship
The European Handball Federation (EHF) has named European betting brand Betano as the its regional betting partner for the German market ahead of the new EHF Champions League season.
UK-based esports giant Gfinity has inked a deal with Domino's until the end of 2020, making the pizza chain the presenting partner of the Gfinity Challenger and Elite Series UK.
Second-tier English soccer club Bristol City FC have signed a one-year partnership with English airline flybmi, which will fly the Championship team's players to fixtures aboard its all-jet fleet.
The National Football League's (NFL) Jacksonville Jaguars have named UK-based cooked meat brand Fire & Smoke as their official meat partner in a deal which also covers the Jaguars Se7ens Cup flag football tournament.
The Berlin 2018 European Athletics Championships will feature Japanese manufacturer Toyo Tires as an official partner of the multi-sport event.
Italian soccer giants Inter Milan have announced timepiece company Seagull Watch as an official partner in China.
The FIA World Rally Championship (WRC) has named Japanese chemical company Asahi Kasei as an official partner.
UCI World Tour Belgian cycling team Quick-Step Floors have announced a multi-year sponsorship deal with Alken-Maes brewery.
The Indian Olympic Association has partnered with Borosil Glass Works, which will serve as the Indian team's official hydration partner.
After a successful debut year of the partnership, second-tier French soccer club Red Star and magazine Vice Media France have extended their deal for three more seasons.
The general assembly of the Saudi Arabian Football Federation (SAFF) has terminated its deal with the Middle Eastern Broadcasting Company (MBC Group) to partner with Saudi Telecom Company (STC).
The Alliance of American Football (AAF), set to debut in February 2019, will feature Starter as its official uniform and apparel provider.
Premiership Rugby side Sale Sharks have renewed their deal with luxury car dealership Bentley Manchester after finishing a promising 2017/18 campaign.
Telecommunications provider AT&T Mexico will sponsor Liga MX soccer club Puebla FC, and will feature its logo on the team's jersey.
The organising committee for the 2020 Olympic Games in Tokyo has joined forces with the United Nations Global Compact to work together fostering strategies regarding human rights, labour regulations, the environment, and anti-corruption measures.
Media Rights
ESPN has extended its exclusive media rights deal with the National Collegiate Athletic Association's (NCAA) Big South Conference, enabling the new ESPN+ over-the-top (OTT) service to stream over 900 events annually.
Personal Endorsement
Northern Irish boxer Carl Frampton has become an ambassador for English designer sports fashion brand 11 Degrees.
US Olympic and world champion swimmer Simone Manuel has announced her turning professional via a sponsorship deal with swimming apparel company TYR.
SmartSeries
Bundesliga side Werder Bremen have become the latest soccer club to launch their own esports division, which will begin its operation with the September release of the FIFA 19 video game. The division will be managed by STARK eSports Agency.
Investment
Papua New Guinea (PNG) Rugby League has teamed up with the Brisbane Broncos to promote opportunities for women's rugby in PNG.
Bidding & Hosting
The International Judo Federation (IJF) has suspended the Abu Dhabi Grand Slam as well as the Tunis Grand Prix from its competition calendar over the treatment of Israeli athletes in both countries.
Politics & Governance
Scottish Rugby has reported record turnover of UK£57.2 million (US$75.1 million) for the 2017/2018 season, which represents an 11 per cent increase on the previous campaign.
Shirt price of the day
Fans of Championship side Swansea City will be able to sport their favourite club's kit, sponsor and all - but for a price.
Swansea University will be the official back-of-shirt sponsor of the second-tier team for the upcoming 2018/19 campaign, but if fans want to properly replicate their favourite Swansea players, it will cost them an extra UK£3 to do so. Similarly, it will cost another UK£3 to get the logo of Low Cost Vans—the club's official shorts sponsor—printed on a replica pair.
Swansea University chief operating officer Andrew Rhodes attempted to justify the extra cost, saying: "For Swansea University, this is much more than a sponsorship deal – it's a partnership that supports our community and will help us continue to raise our profile as a leading UK and global university."
When all is said and done, a replica kit with sponsors included could cost a fan nearly UK£80.
Our industry digest will update throughout the day as deals break so check back to make sure you do not miss a story