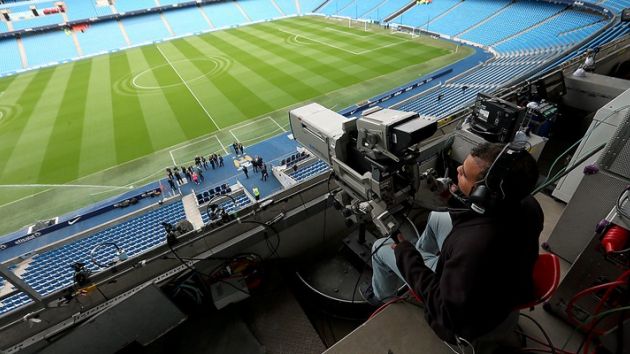 Sky Sports and BT Sport will continue to broadcast live Premier League games until the end of the 2018/19 season, paying a combined UK£5.136 billion for the rights to do so.
Sky, which has broadcast the Premier League since its inception in 1992, won five of the seven match packages made available by the league. It will continue to broadcast its 'Super Sunday' double-headers, as well as Saturday lunchtime, Monday evening and bank holiday games, after committing a total of UK£4.18 billion over the three-year period.
BT Sport, meanwhile, has taken the remaining two packages, entitling it to 42 live games per season, taking the Saturday evening slot and additional Saturday lunchtime and midweek fixtures. It will pay UK£960 million over three seasons from 2016/17.
The rights announcements were made at a Premier League press conference at a central London hotel on Tuesday evening. The UK£5.136 billion total represents an increase of 70 per cent on the current deal, far beyond the expectations of most observers. Over the course of the three-year agreement, a period including 504 live matches, the total sum averages out at UK£10.19 million per game.
The Premier League's current rights deal, which covers 2013/14 to 2015/16, is worth UK£3.018 billion. 154 games per season were made available for broadcast in that cycle. Sky paid a total of UK£760 million per season for five of the seven packages on that occasion, including Saturday evening games, two packages of live Sunday matches and Monday evening fixtures, while BT committed UK£246 million per season to take the other two, equating to 38 matches per season.
For the new three-year cycle, the Premier League offered 168 live games split across seven packages. One package, won by Sky, includes a new set of Friday night games. No single broadcaster was allowed to secure more than 126 live matches – Sky has secured the maximum number of games it was allowed to bid for.
Sky's group chief executive Jeremy Darroch called it a "good result" for the broadcaster, despite an 83 per cent increase in rights fees over the existing contract. While Sky has committed to paying UK£11 million per game over the course of the contract, BT will pay UK£7.6 million for each match.
The Premier League's chief executive Richard Scudamore, who admitted he was "surprised" by the escalation in rights fees, did not confirm whether there were other bidders for the highly prized packages, amid speculation that Eurosport, backed by the ambition and financial muscle of new parent company Discovery Networks International, would enter the fray. Qatari broadcaster BeIn Sports was, as ever, also rumoured to be in contention. Scudamore would only go as far as praising the "very, very dynamic presentations" during a rights sales auction which is believed to have gone into a second round.
"We know from this process there are many interested parties who would like to get hold of Premier League rights," Scudamore added. "We are grateful to Sky since 1992 for the investment they've made. They are great partners of ours but they more than anybody know that once every three years – and this happened in the last week – we break that relationship in order to run a very open process where anybody can come along, on a standalone basis and buy these rights. That's the way it's been for some time and the way it will continue to be."
BT and BSkyB have been engaged in a fierce battle for sports rights since BT's dramatic foray into the sector - its Premier League rights formed the basis for the launch of its BT Sport channels - in June 2012. The stakes were raised in November 2013 when BT Sport won exclusive rights to the Uefa Champions League, a deal which starts later this year, for three seasons for US$1.425 billion, a major blow to Sky.
Sky has responded with its own rights acquisitions and a series of renewals, most recently taking exclusive live rights to The Open golf championship from 2017, but the company remained acutely aware that retaining a significant chunk of Premier League rights was paramount. Its most recent financial results, posted last week, stated that it added a further 204,000 customers in the UK over the final three months of 2014, with revenues up five per cent to UK£5.6 billion for the six months to the end of December.
BT, meanwhile, has in recent days finalised a UK£12.5 billion deal to acquire EE, the UK's largest mobile provider, as part of its efforts to offer a quad-play product - telephone, broadband, TV and mobile.
The staggering hike in rights fees is likely to lead to an increased clamour for reduced ticket prices at Premier League games, given the windfall clubs will receive. Scudamore, meanwhile, refuted suggestions that the fees committed by Sky in particular may translate into higher subscriptions. "If you look at what happened last time, we delivered a 70 per cent increase and in no way has that been passed along in anything like the direct proportions to the consumer," he said. "The market that we are now in is a very, very bundled market. The way that people are competing for everybody's digital home is very competitive."
Scudamore continued: "BT have done a fantastic job in terms of what they've done with their sport offering but of course we're part of a bigger play now – it's a sport offering, with a bundled broadband offering and now telephony. And Sky, what a brilliant job they've done with their sport packages, but beyond sport look at what they've done with Sky One, Sky Atlantic, the arts, general programming, news. Look what Sky are doing in terms of their business, with the fantastic academy they are running. Sky are big broadband players and have also recently announced a tie-up in terms of a mobile play.
"These are huge companies doing huge things and the market now has gone way beyond football, it's into much wider market play. We are beneficiaries of that, we are part of it but only a small part of it."
Sky said it 'has a clear set of plans in place to fund the bid and deliver its financial plans in line with expectations', adding: 'The company will work hard to minimise the impact of higher rights costs on customers, with the majority of the funding coming through substantial additional savings to be delivered by efficiency plans'.
The Premier League has yet to begin its international rights sales process for the 2016/17 to 2018/19 period. In the last cycle, global sales outside the UK generated over UK£2 billion.