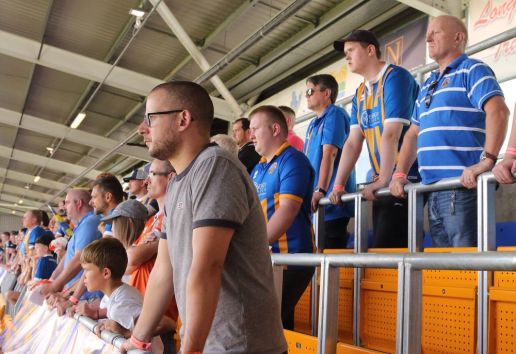 The Football Association (FA), the governing body of English soccer, has given its support to the introduction of safe standing at stadia in the country.
The move, which could lead to major changes to laws regarding all-seater soccer venues, was reported in daily newspaper The Times.
According to the report, the FA is to inform the government of its decision to allow individual clubs under its jurisdiction to choose whether or not they want to install rail seating.
Although both the Premier League and Football League (EFL) have both previously come out in favour of permitting safe standing through rail seating, the FA's decision to support the campaign is significant. It means that English soccer will be unified at the government review, which begins in September.
Safe standing at grounds in the top two divisions of English soccer has been prohibited under the terms of the 1989 Football Spectators' Act, which came into effect following the recommendations of the Taylor Report as a result of the Hillsborough disaster, which claimed the lives of 96 Liverpool fans.
A spokeswoman for the FA told The Times: "The FA supported the announcement from sports minister Tracey Crouch in June to conduct an 'external analysis of evidence in relation to the all-seater policy' and supports clubs and leagues in having the option to choose whether they wish to provide standing options for supporters should there be clear evidence that satisfies the authorities over safety and security."
In June, Crouch stated that her "mind is open" regarding the possibility of permitting the introduction of safe standing at soccer venues. She had previously described campaigners as a "vocal minority."
Back in April, a petition started by the Football Supporters' Federation (FSF) asking for Premier League and Championship clubs to be allowed to have safe-standing at their stadiums has been signed by 100,000 people. Additionally, in a recent EFL survey of 33,000 fans, 94 per cent of replies stated a desire to be given the option of whether they would prefer to stand or sit at matches.
Of 18,000 Liverpool fans surveyed by supporters' group Spirit of Shankly, 88 per cent gave their backing to the implementation of rail seating at Premier League grounds.
Outside of England, safe-standing is already in use at Celtic Park, the home of Scottish soccer giants Celtic, as well as at a range of German clubs, including recent Bundesliga champions Borussia Dortmund and Wolfsburg.
This season, English third tier club Shrewsbury Town became the first club in England or Wales to install safe standing at their New Meadow stadium, with the help of a UK£65,000 crowdfunding campaign.