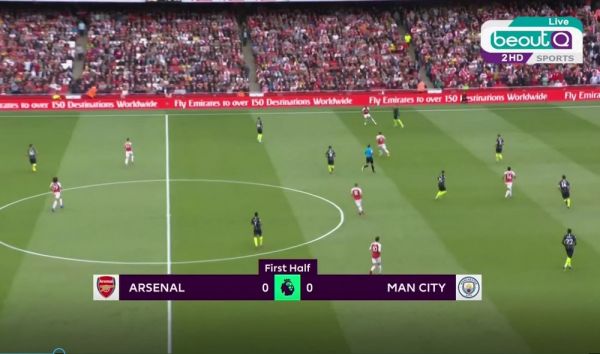 Qatar-backed broadcaster BeIN Sports has alleged "political motivations" after revealing that BeoutQ, a pirate channel operating in the Middle East and North Africa (MENA), illegally distributed its coverage of the opening games from English soccer's Premier League and France's Ligue 1 across Saudi Arabia.
BeIN confirmed that the service pirated all ten fixtures from the Premier League's opening weekend, along with six of the first ten games from Ligue 1. In addition, BeoutQ also promoted coverage of upcoming games it will show from Spanish soccer's La Liga and Germany's Bundesliga, neither of which the channel has rights for.
The announcement comes after BeoutQ stole BeIN's coverage of every game from the recent Fifa World Cup in Russia, along with a host of other premium sports content. The likes of Fifa, Uefa, Formula One and world tennis' governing bodies have also called for BeoutQ to be shut down after having their content stolen.
In a new development, BeIN has announced that digital security, media solutions and technology companies Cisco Systems, Nagra and Overon have all confirmed that the Saudi-based piracy channel is being distributed on Riyadh-based satellite provider Arabsat. The company had been widely reported as the provider distributing the channel, but said in a letter to Fifa in July that an investigation by 'seven independent satellite communications experts' confirmed that its satellite frequencies had not been exploited by BeoutQ.
BeoutQ is thought to be a product of the current trade ban between Saudi Arabia and Qatar, which means fans in the former country do not have access to BeIN. Saudi Arabia has consistently denied its involvement in BeoutQ, and the country's ministry of media released a statement in July condemning suggestions that it has been complicit in the operation of the service.
However, BeIN has noted that prior to the trade ban between Saudi Arabia and Qatar, Arabsat routinely switched off pirate operations in accordance with international law. The company has also highlighted that BeoutQ regularly distributes a stream of anti-Qatar propaganda, while it alleges that the name of the channel is intended to mean 'be out Qatar'.
Tom Keaveny, managing director of BeIN Media Group in the MENA region, said: "The political games being played by Arabsat, BeoutQ and its Saudi backers in stealing our content have consequences that affect the future of world sport, not just BeIN Sports.
"That is why the international sports community – from Fifa to Uefa, Formula One to world tennis, together with a host of other global broadcasters – have all taken a stand and publicly condemned this Saudi-based piracy. BeoutQ and its Saudi backers seem to think they can operate beyond the reproach of the rule of law and the international norms that everyone else respects."
A statement from BeIN added that while the Saudi government claims to have made 'relentless efforts' to combat piracy, BeoutQ set-top boxes are being widely and openly sold across the country.
Sophie Jordan, executive director of legal affairs - general legal counsel of BeIN Media Group, added: "The evidence is irrefutable: the illegal channel BeoutQ is backed by Saudi nationals and openly promoted by leading Saudi figures; it is operating with the tacit consent of the Saudi government and its World Cup pirate feeds were viewed on public screens under the responsibility of Saudi authorities across the country; it is broadcast on the Riyadh-based satellite provider Arabsat; on a daily basis it is carrying out - in broad daylight - a mass-scale theft of highly valuable intellectual property rights.
"It is time for Arabsat to switch off the pirate transmissions it has supported for almost a year; it is time for Arabsat to be made accountable for facilitating the largest pay-TV piracy organisation in the history of pay-TV."