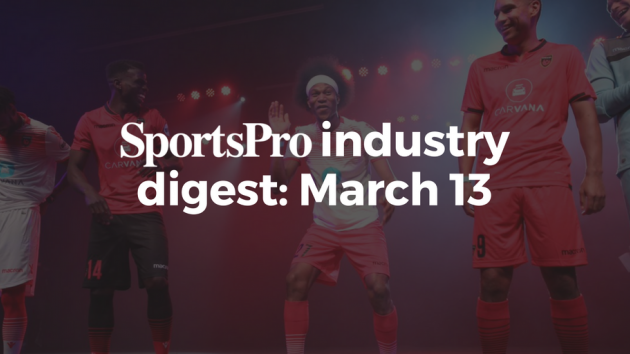 Soccer: US second-tier outfit Phoenix Rising have announced Carvana, an ecommerce platform for buying used cars, as their new shirt sponsor for the next three seasons.
As part of the new agreement, the United Soccer League (USL) club have announced special promotional events throughout the 2018 season, including a car giveaway on 4th May during their clash with LA Galaxy. The Galaxy match will also be 'blackout' themed, with the first 3,000 fans receiving a Phoenix Rising t-shirt provided by Carvana.
"We are honored to be partnering with such an innovative and forward-thinking company such as Carvana," said Bobby Dulle, chief operating officer for Phoenix Rising.
"Their business philosophy is a lot like ours, and we are both in rapid growth phases, so it is a perfect partnership. We also love that they are a locally headquartered company looking for new ways to connect with our community."
Football: Emory Healthcare and National Football League (NFL) franchise the Atlanta Falcons have entered into a new partnership that designates the Georgia-based company as the team's official healthcare provider.
In England, the British Universities and Colleges Sport (BUCS) Premier and Tier 1 finals will return to Sixways Stadium in Worcester on 25th March.
Baseball: The Mexican Baseball League (LMB) has announced Wilson as its official supplier for the two championships being played this year. The sports equipment company will supply protective equipment for the umpires, 'fungo' bats and mittens for umpire training, as well as luggage for their transfers.
Motorsport: Dutch commercial broadcaster RTL has agreed a rights deal for the newly-formed World Touring Car Cup (WTCR). RTL was an existing partner of the World Touring Car Championship, which merged with the TCR series to form the new motor-racing event.
Italian watch brand Anonimo has renewed its partnership with MotoGP outfit Leopard Racing for the fourth consecutive year.
British outfit TAG Racing have signed an agreement that will see Anvil Hire continue as their title sponsor into the 2018 Bennetts British Superbike season.
Golf: The PGA Tour has launched a new augmented reality (AR) platform. The PGA Tour AR app will offer live AR tournament coverage for free to fans around the world on their iOS devices, commencing from the opening round of the Arnold Palmer Invitational tournament on Thursday.
The PGA Tour has also extended its broadcasting agreement with SiriusXM for another four years 2021.
Basketball: BioSteel has become the exclusive sports nutrition supplement partner of Chinese Basketball Association (CBA) outfit the Guangdong Southern Tigers.
College sports: Indeed, the job listings site, is the newest corporate partner of the National Collegiate Athletic Association (NCAA).
Disability sport: Digital content specialist NowThis Sports has signed a two-year partnership with the International Paralympic Committee (IPC) designed to elevate awareness of the movement.
Triathlon: Super League Triathlon (SLT) and the International Triathlon Union (ITU) have announced a pivotal memorandum of understanding (MOU) that covers a shared goal of further building triathlon around the world at many levels including youth development, fan building and audience engagement, and general promotion of the sport on a global scale.
Bus of the day
Monbus, official sponsor of Atlético Madrid, has given the club its new official bus with a video announcement fit for a big money signing. The Monbus SETRA S517HDH has 46 leather seats equipped with a breathable fabric centre for maximum comfort, touch screen seat back, a coffee machine, fridge, microwaves and a large bathroom.
Our industry digest will update throughout the day as deals break so check back to make sure you do not miss a story