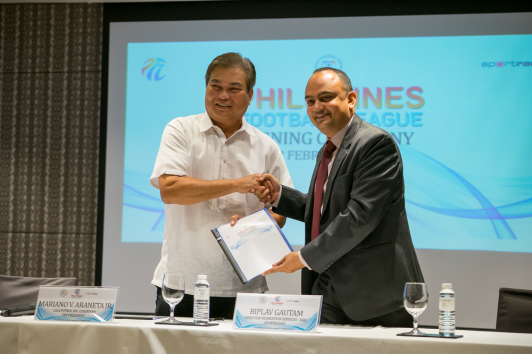 The Philippines Football League (PFL), the top-tier of club soccer in the country, has agreed a multi-year partnership with Sportradar.
The sports data company will serve as the league's official and exclusive audio-visual and data distribution, as well as its integrity services partner.
The deal will see PFL create its own digital broadcast platform using Sportradar's over-the-top (OTT) solution. The platform will integrate video streaming and content with visualised statistical data, and will be accessible across mobile devices, desktops and smart TVs.
The PFL will be able to commercialise the platform through advertising, sponsorships, subscription or pay-per-view opportunities for matches.
The service, which aims to develop the league's following, will make content available on all platforms at all times for fans across the Philippines as well as around the world.
Sportradar will also promote the 'Integrity Always' tagline to raise awareness about responsible betting. The company will organise educational workshops for clubs and players to highlight the dangers of match-fixing, while Sportradar Integrity Services will also monitor, identify and analyse any suspicious betting activities relating to the league.
"2017 was a fantastic first year for the PFL, and we believe that 2018 will be the year we take the league to the next level with Sportradar," said Mariano Araneta, president of the PFF. "We are delighted to have a trusted global brand such as Sportradar join our journey, a company that shares our passion and sees the potential of the league."
"As our first OTT partner in Asia, the PFL joins a rapidly growing group of federations and leagues globally that have taken a decisive step towards delivering an innovative digital strategy that will provide value and engagement for its sponsors and advertisers, as well as to the delight of its fans," said Biplav Gautam, director of business development in Asia at Sportradar.
"We are particularly encouraged by the PFL's commitment to keeping the league clean, and we are confident that the engagement of our Integrity Services will safeguard the league against match-fixing."
The Philippines Football League competition, which has six participating clubs, was launched in 2017 and its second season is due to get underway on 3rd March.