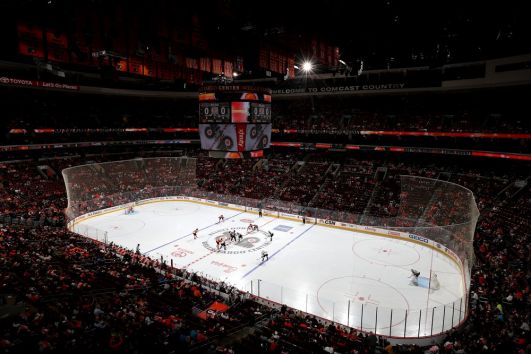 The Wells Fargo Center, the home of the National Hockey League's (NHL) Philadelphia Flyers and National Basketball Association's (NBA) Philadelphia 76ers, is set to undergo a multi-year, US$250 million renovation, the arena's owners have announced.
According to the Philadelphia Inquirer, Comcast Spectator last week approved plans for what will represent the largest investment in the 20,000-seater venue since it opened in 1996.
The first phase of the revamp will take begin later this year, and will involve upgrading the arena's mezzanine level, which accounts for 40 per cent of the venue's capacity. Highlights of the new level will include multi-functional concourses, new windows providing views of Philadelphia's skyline, two open-air lounges, more than 150 digital screens, and expanded food and beverage locations and offerings.
The second phase of the project will begin next summer, with the focus shifting towards developing the main concourse and seats on that level.
According to Comcast Spectator chairman and chief executive Dave Scott, the ownership group was faced with a choice of either tearing down the arena and building a new one on the same site, or taking out and upgrading individual areas inside. He added that the cost of building a new arena could have cost US$750 million.
"We have kept a close eye on recent introductions and upgrades across the NHL and NBA landscape, and designed a strategy that embodies the 'best of the best' arena features and advancements as we continue to elevate the customer experience at the Wells Fargo Center," said Scott.
"Our guests have unlimited entertainment options at their fingertips," added John Page, president of the Wells Fargo Center. "We've designed this next phase of the Wells Fargo Center to promote more social gathering inside the arena, and enhanced technology offerings that improve the overall experience."